Description
Vintage Baume Mercier Chronograph
Vintage Baume Mercier chronograph watch in 18k yellow gold. This watch dates back to the 1940's when two register chronograph watches where very popular. Various brand have made beautiful chronograph watch during the 1950's. Many watches manufactures shared the same case suppliers for their watches. The waterproof and antimagnetic watch case from this vintage Baume Merciers has been made by the firm Spillmann, it can be recognized by the hammerhead 136 hallmark on the back of the watch. Interesting is the fact that Spillmann SA designed the famous 'oyster case' for Rolex. This vintage Baume Mercier shares and almost identical case with early waterproof chronograph watches from Rolex like the ref 4500 chronograph, the Rolex had a screw down crown which isn't the fact with this Baume Mercier and of course the caseback has a total different shape.
About the caseback, I personally love it. There is a lot of information written on the caseback and we know these casebacks from brands like Mulco. It says the watch is waterproof, antimagnetic and shock protected. Also it shows the 18k gold hallmark and hammerhead 136 from the Spillmann firm. Only a few of these Baume & Mercier early chronograph watches are known, all with a very close serial number.
The specifications
This baume mercier wristwatch is only signed on the dial, it has a well finished two register Landeron movement with an antimagnetic dust cap. We assume Baume Mercier has not made many examples of this particular watch, we had an example before which serial was a few digits away from this example, both watches had an unsigned movement and case. Personally I think the watch may have looked too similar with the Rolex examples from then and therefore production stopped. The similarity of the hands and the case directly reminds to the Rolex model as shown below.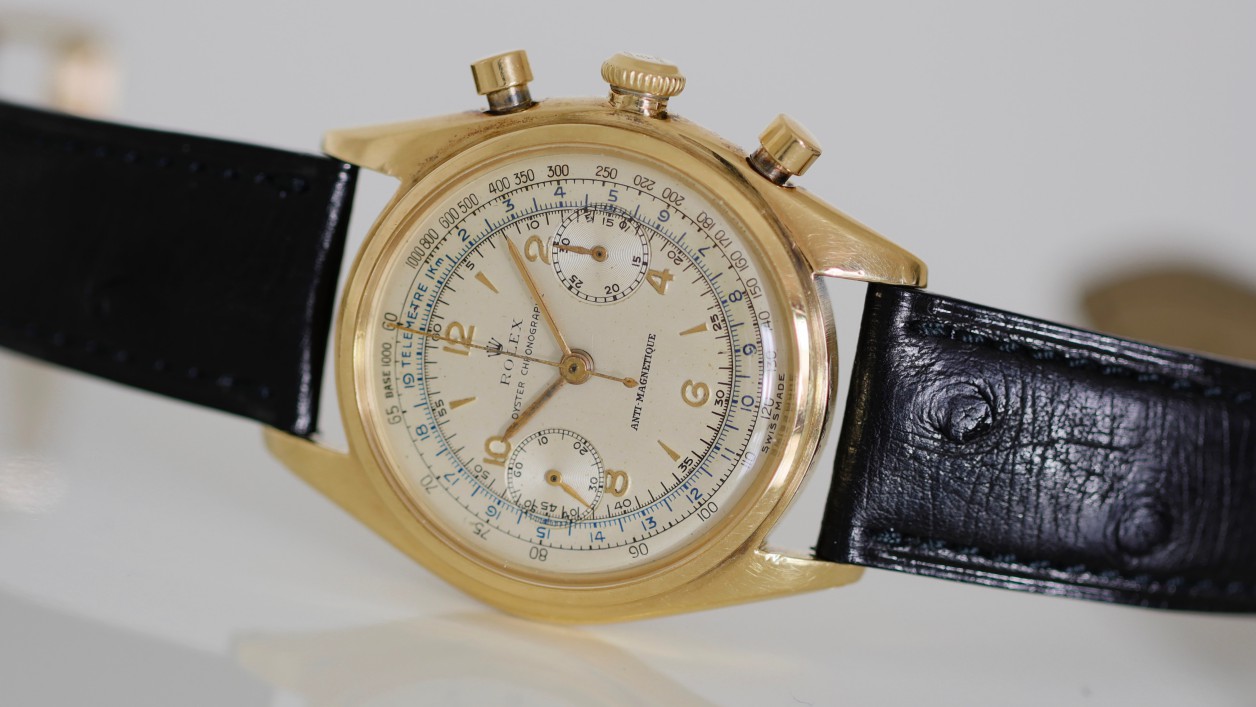 The watch size is around 36mm and the case is very solid. We can supply the watch with a leather strap of choice. Please let us know when you have any questions about this early vintage Baume Mercier chronograph we are happy to answer your questions.
Vintage Times ships worldwide and we have many references from happy clients all over the world, don't hesitate to contact us for any questions
Vintage Times
high-end vintage timepieces
email: [email protected]
whatsapp: +31 641 111 044