Description
Rolex 118389 day date with factory diamond set bracelet
Rolex 118389 white gold day date, a fabulous example from the millennium with a full diamond factory set case and bracelet. The day date is known as a prestigious watch and has been worn many world leaders, film stars, sporters and even the Dalai Lama has worn a day date watch. Many day date watches feature diamonds on the dial or bezel, factory diamond set Rolex watches have always been expensive watches and therefore not very usual. Besides diamonds on the bezel and dial Rolex produced watches where the case has also been set with the best quality diamonds available.
For some a diamond Rolex watch was just not enough, on special request it was (and still is) possible to order a Rolex watch with the bracelet set with diamonds too. As prices for these diamond set bracelets where extremely high we often see bracelets with aftermarket diamond which have been placed by jewelers or gem stone dealers. Of course the later set diamond watches and bracelets are not the real deal and a true collector or connoisseur will avoid these watches.
The example we have here is factory set with diamonds on the dial, bezel and case. As cherry on top this watch has been fitted with a factory set diamond bracelet. The mid links of the president bracelet are precisely set with the best white and clear diamonds available. Men should consider that the price of a bracelet like this was often even more expensive then the watch itself, therefore just a few models appear on the market today with factory set stones on both watch and bracelet. To find one in white gold is even more special as most diamond rolex watches have been made in yellow gold.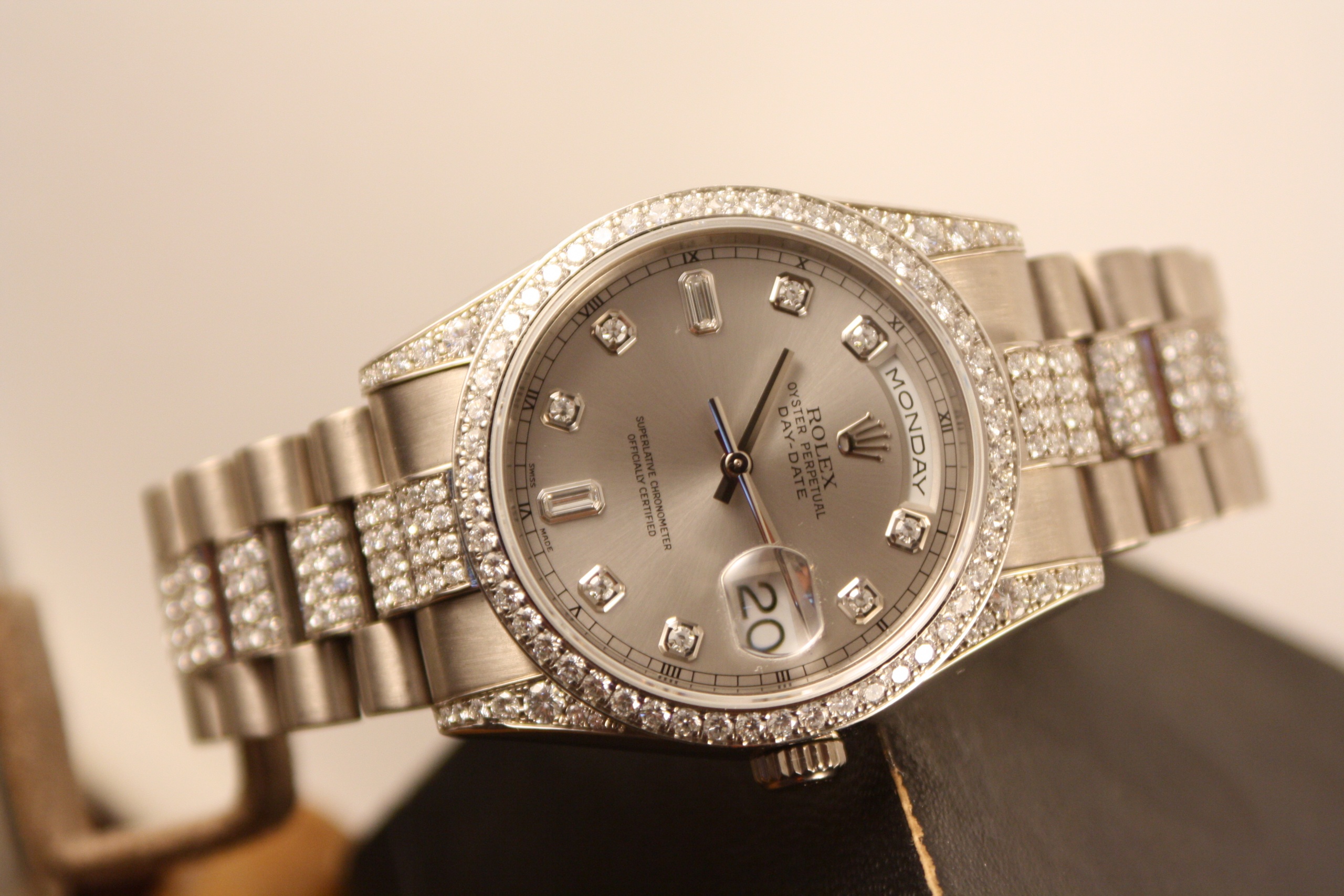 This factory set day date dates back to the beginning of the millennium, the price back then was more than 100.000,- US dollar. Just a few examples of this model appear on the market today. The rarity of this watch is extreme, especially because back then there wasn't a big collectors market for rare Rolex watches as we see now. Today many people buy Rolex watches and collect them, its not unusual to have multiple Rolex watches in a collection so today more of these diamond Rolex watches are sold, this wasn't the case in 2001 so we can consider this watch as one of the rarest Rolex day date watches around.
Today there is much more demand for Rolex watches and the current top model from the Rolex day date is probably the reference 128349RBR with rainbow dial and also a factory set diamond bracelet on request. Also today prices for these watches are on request only. Visit the Rolex website here to view the current model.
We are proud to offer this very collectible and astonishing day date watch. Please contact us for any more info and detailed pictures. As you might expect its impossible to capture the luster and shine of this watch on a picture but we did our best to photograph the watch as best as we possibly could.
The watch comes without the guarantee paper but with original box, booklets and Rolex service on request. All links are present and the condition of the watch and bracelet is very good.
Rolex day date 118389 Diamond set
full original condition
factory set dial, bezel, case and bracelet
ref 118389
36mm case
circa 2001
silver dial
original box / no papers
rolex service on request
Vintage Times
high-end vintage timepieces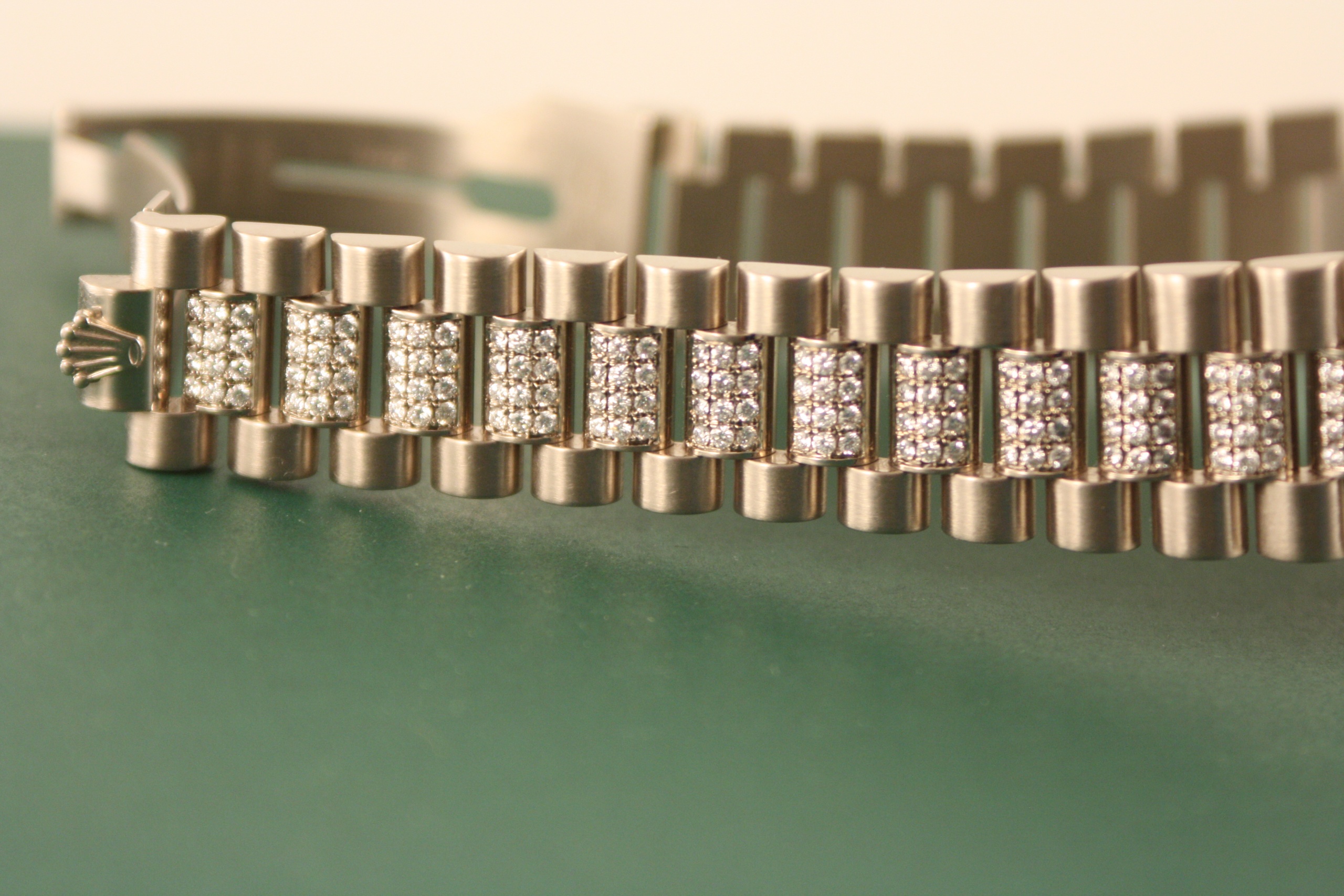 Find out more Rolex watches in our collection here
Contact our watch specialist