Description
Wilt u een oude Rolex verkopen of op waarde laten schatten ?

1601 Datejust Vintage with a very early serial
1601 datejust vintage in perfect condition. This very early example has a 3.373xx serial number dating the watch case produced circa 1958/1959. This is one of the first produced Rolex datejust watches bearing the '1601' reference. It could be considered as a 'transitional' model as earlier ref 6605 datejust watches bear later serial numbers. The caseback is dated the first quarter of 1960 and is signed 'stainless steel' on the outside of the caseback. We only see this at very early datejust models and most of the times it has been polished out.
The watch case is very strong and has only been lightly polished in the past. It still has the rare 'flat bezel' which has more teeths than later examples or service bezels. This bezel was also used for the older ref 6605.
It has one of the most eye catching dials in immaculate condition. The early 1960's Rolex dials contain radium and are signed only 'Swiss' at the bottom of the dial. Later dials are signed 't Swiss t' or 't > 25). It still has the original leaf hands which show a beautiful red patina in sunlight. All radium dots on the dial are intact. Nice details is the gold surrounding around the date cyclops, Rolex stopped using this feature on models later then 1960.
The Rolex 1601 Datejust Vintage could be considered as one of the longest produces and probably most sold Rolex watches ever. Therefore a common 1970's 1601 is not considered as very rare BUT to find an original first production run 1601 in full original condition is rare, especially with a mint dial as Radium damaged most of these early 1960's dials.
For more information about this very elegant and classic 1601 Datejust Vintage contact us now. We ship worldwide and are willing to listen to trade offers.
Vintage Times Amsterdam
Rolex 1601 Datejust Vintage
early production 1959/1960
337.xxx serial
caseback stamped 1/64
radium dial and hands
flat fluted bezel
full original condition
1 year guarantee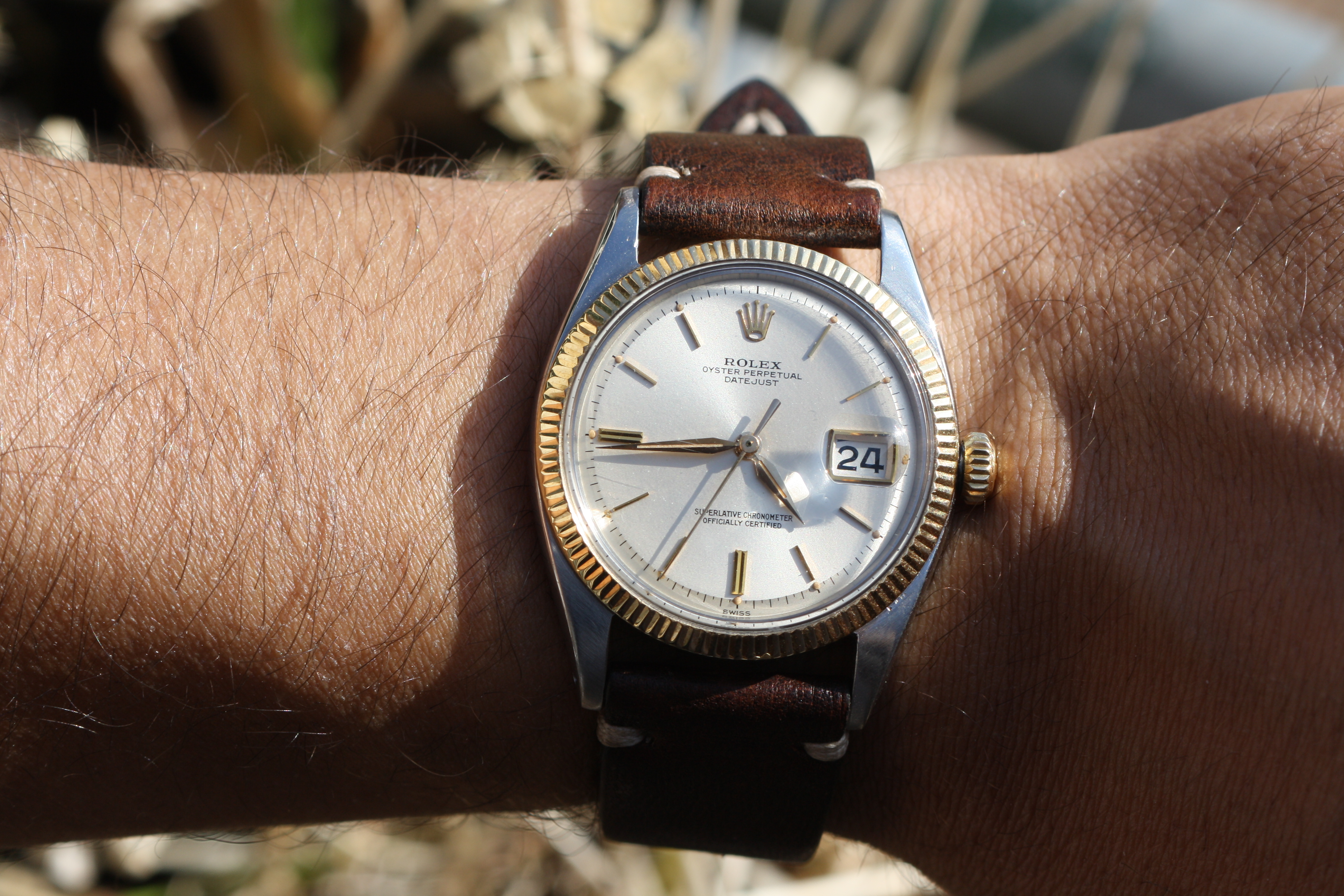 Wilt u een oud rolex horloge kopen of verkopen neemt u dan contact met ons op via [email protected]