As Vintage Times is a small company who mainly deals online its hard sometimes to keep the website up to date. Besides our online watch store which offers a selection of vintage timepieces we also source watches for clients, auctions houses and private collectors. Also some watches are sold before they hit the website. As some of these pieces are very rare and not seen on a daily base we want to share a few of them. When you are looking for a particular watch or have a similar watch up for sale, don't hesitate to contact us for an appraisal or search inquiry.
Rolex Day Date Rubellite dial
This beautiful Rolex with the reference 118208 is a 36mm Daydate with a smooth bezel. It has the oyster bracelet which is specially designed for this type of watch case. What makes this watch extremely rare and attractive is the hard stone Rubellite dial with diamond set hour markers. Rubelitte is a hard stone from the Tourmaline family, with its pink color it and natural pattern of inclusions its a very beautiful and astonishing dial.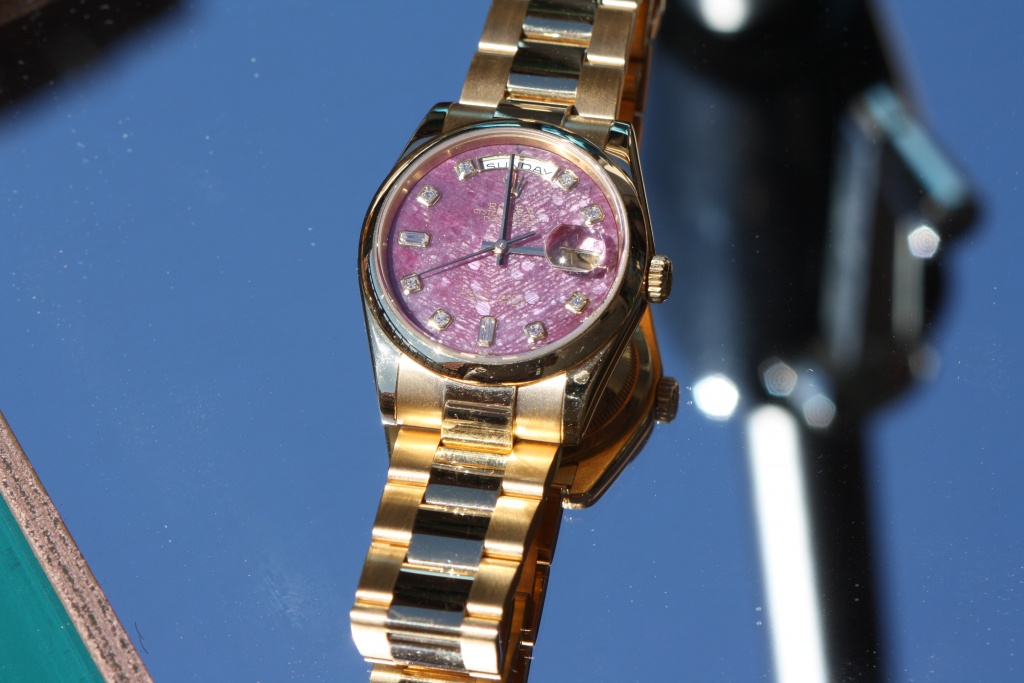 A Lange & Söhne Langematik Platinum Perpetual Calendar
Another very rare and attractive wristwatch by the German manufacture A Lange & Söhne. The watches from the brand are known for their extremely well finished movements. Also they have a very recognizable case with brushed sides and polished lugs. This is a very rare example of the Langematik in platinum with a factory baguette diamond set bezel and black dial. Only two of these examples have been produced for the Japanese market. Both examples are sold in a set of 3 platinum wristwatches by 'the hour glass' in 2006.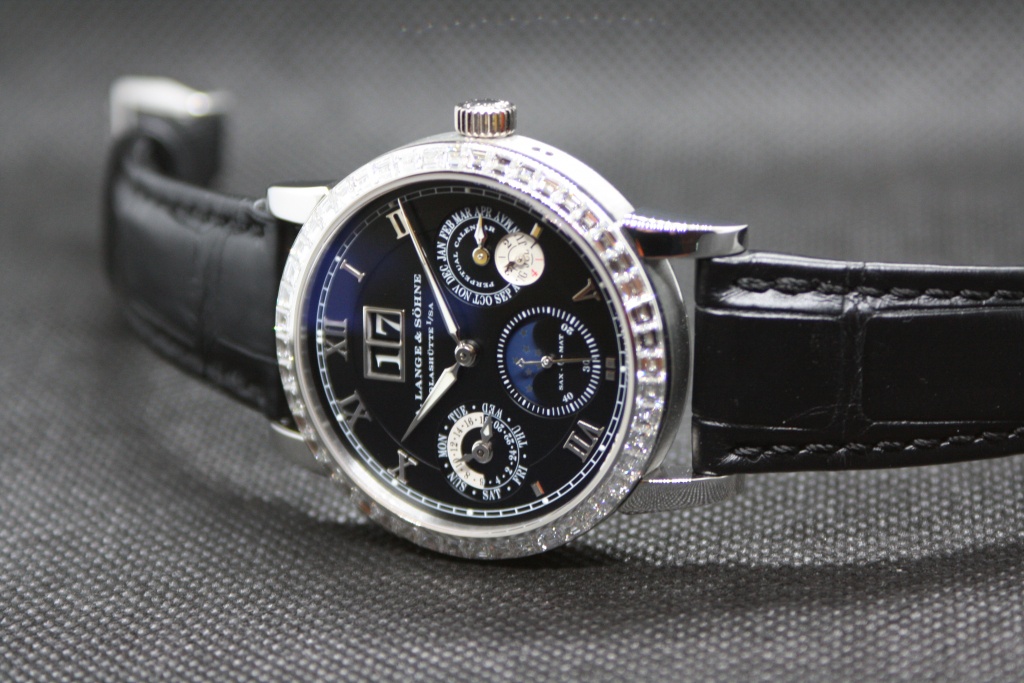 Patek Philippe ref 565 Steel from the 1940's
Very rare and attractive Patek Philippe Calatrava. The reference 565 is known as the first Calatrava wristwatch with a waterproof case. It has been produced with a central second hand and decentralized second hand. The watch we sold recently was unique in the following way, the watch case had been changed by the Patek Philippe manufacture in the 1980's, after it has not been worn which left the watch in an extremely well preserved and almost new old stock condition. Although a restoration could be considered by some as devaluating of a wristwatch, the fact this job has been done by Patek Philippe in the 1980's made it a very special and valuable job in our opinion. Let the picture speak for itself.