Description
Breguet Type 20 'Flyback' chronograph
Breguet Type 20 / Type xx chronograph from 1976. This pilot chronograph is very rare and part of the rich history of Breguet. The company is well know for their high-end complicated watches, what many people don't know is the history of Breguet as an aircraft company. The aviation history of Breguet goes back more then 100 years. They supplied aviation watches to the military, airforce companies and civilian.
This particular Breguet type 20 has been designed for the French Air Force. Because the production cost of the watches was very expensive the French airforce decided to buy more affordable watches like the 'dodane type 20'. The Breguet company sold the relatively small amount of Flyback watches through their to private companies,  aerovale schools and foreign airforces. Because this model didn't make it through the French airforce its often called the 'civilian' type 20.
An identical example of this 'Second Generation' Breguet type 20 is on display at the Breguet Museum in Paris. It's definitely worth to visit the boutique and museum at the Place Vêndome in Paris. Mr. Emmanuel Breguet who currently is the museum director has been very helpful to get more information about the history of this specific timepiece. The watch comes with an official extract of the Archives, it has been originally sold at 14 march 1976
A visit to the museum of Breguet has been documented by Hodinkee. Read this very interesting article here.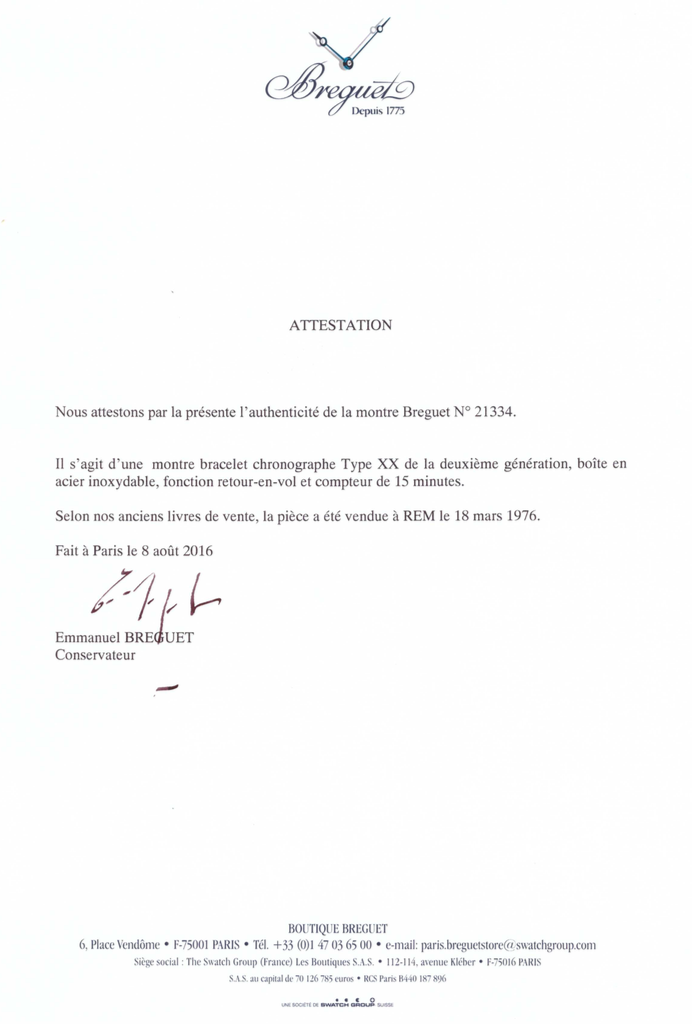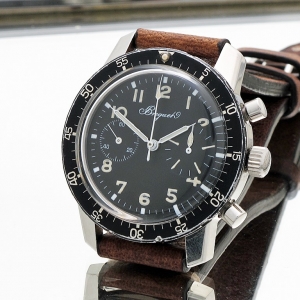 Breguet Type 20 'Flyback' chronograph
2 register flyback
year 1976
original condition
fully serviced
with Extract of the Archives
Breguet type 20 vintage 1970's model
1970's Breguet Type 20 Flyback chronograph in outstanding condition. The watch is authenticated by Breguet and accompanied with an extract signed by Emmanuel Breguet,
Emmanuel Breguet is a direct descendant of Abraham-Louis Breguet, the founder of the company. He is also the conservator of the Breguet archives.
Type 20 chronograph watches are real tool watches designed for military usage. This is a civilian model sold to the French firm REM in the mid 70's. Prices for these flyback watches where extremely high, it was not a watch you would find in a watch boutique. Most watches sold to civilian are bought by Aéronavale companies and big industries.
Just a few example of this breguet appear on the market today, they are scarce especially in this condition.
For more information about this rare and attractive breguet wristwatch contact us now. We are happy to tell you more about this iconic and historical important wristwatch.
[contact-form-7 404 "Not Found"]