Description
Longines flyback chronograph
One of the first Longines Flyback chronograph's bearing the 30ch movement. This watch has a very interesting history as it was given to a Military Navy schoolar in Brazil who became an important Military Naval Commandant till the 1980's. This is one of the very first Longines Flyback chronograph watches bearing the 30ch movement which was the successor of the Longines 13zn movement. The same model with claw lugs and an earlier 13zn movement is illustrated in the Longines 'Legendary Watches'  book by John Golberger
Marine Navy Officer Bernard D. Blower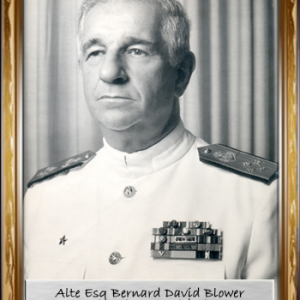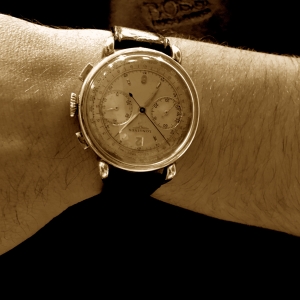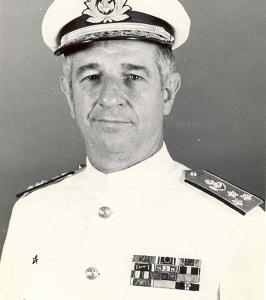 The watch condition if fully original and well preserved, the dial shows a nice 'Brazilian sun' patina. The dial has never been restored and it shows some very nice patina. The tachymeter scale lost some of it's blue color due to the heavy sun the watch has seen in her life. The back of the watch is signed as it was a price Longines has given to mr Bernard David Blower as a price for an intensive sea mission mr Blower accomplished. A gold Flyback chronograph was not just a price in 1949, it was really something to own a watch like the Longines Flyback chronograph. The 38mm case size must have been an impressive show at the time.
There are not many of these Longines Flyback 30ch watches around these days, and to find one with a case like this is almost impossible. This piece with its interesting history is unique and therefore we are proud to offer it at our watch Company. To have a view at the watch in person you can visit us at our office in the centre of Amsterdam. We also ship worldwide and are willing to trade in your vintage watches,
For more information about this very early Longines Flyback chronograph with military Historie contact us now, please don't hesitate to ask any questions.
Vintage Times Amsterdam
High-end Vintage Timepieces
[contact-form-7 404 "Not Found"]