Description
Patek Philippe Calatrava
Beautiful Patek Philippe Calatrava with the reference 3919. The watch condition is mint and comes with the original Patek Philippe certificate and booklets. The Patek Philippe Calatrava may be the best dresswatch available today, the beautiful 'Clous de Paris' bezel makes the watch even more attractive. Like already mentioned the condition of the watch is mint, it has no damages and the dial and hands are untouched.
The original watch strap has been changed by us for a new Alligator bordeaux leather bracelet. The original Patek Philippe bracelet comes with the watch too. As this watch could be considered as a real safe keeper the yellow gold shows a beautiful rose/red patina which gives the watch a warm tone.
With the Patek calatrava you wear a gentlemen's watch which will give you a smile on the face every time you look at the beautiful white enamel dial, to find a well preserved and unpolished example from 1996 could be considered as rare, for more information about this Patek Philippe 3919j contact us by phone or mail.
We ship worldwide and trade in your vintage timepiece as well. To view the watch in person contact us for an appointment, we have our office at the Herengracht 142 in Amsterdam
Vintage Times Amsterdam
High-end Vintage Timepieces
Patek Philippe Calatrava
Reference 3919j
Caliber 215
mint condition
with certificate / no box
18k yellow gold
33mm case without crown
enamel white dial
1 year guarantee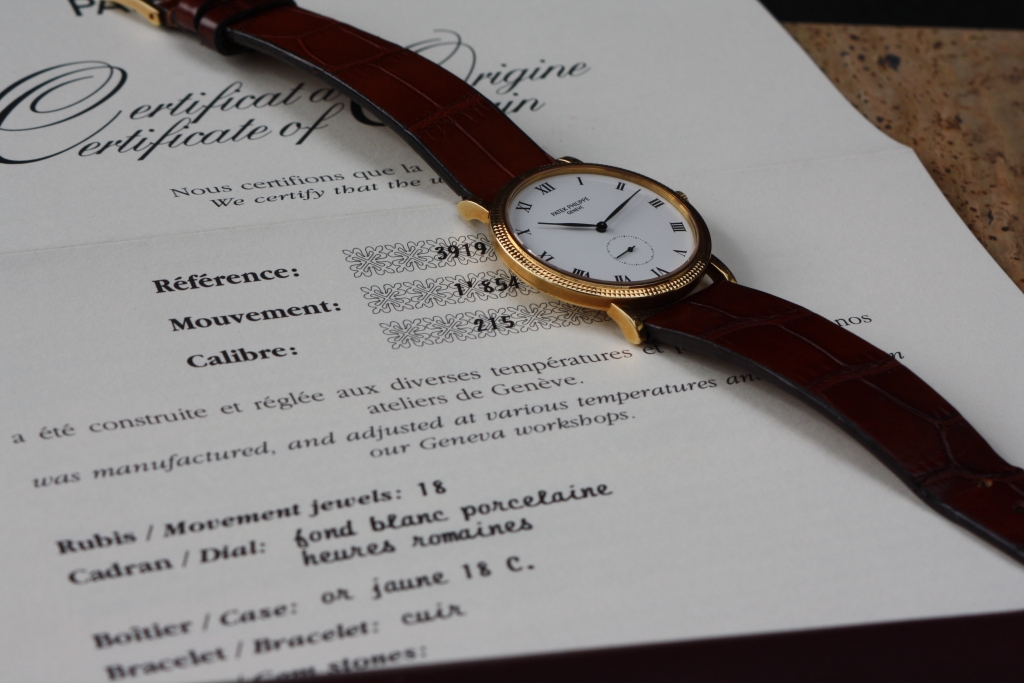 The 'Calatrava' by Patek knows a rich history starting in 1932 with the reference 96. The Calatrava has been a standard for watch companies producing dress watches. The classic and timeless design is popular for over decades. Although the size of these watches seems small they wear fantastic and look extremely beautiful on the wrist. The 3919 could be considered as the successor of the early Ref 96 We have a very early ref 96 for sale at our website as well which you can find here Patek ref 96.
1945 – 1996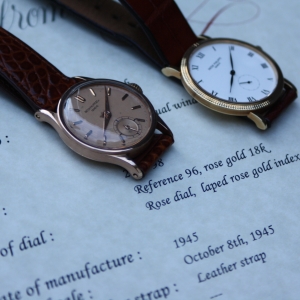 Patek Ref 96 and Ref 3919