Description
Vintage Rolex Daytona 'Inverted 6' from 1994 in yellow gold
Inverted 6 Daytona Cosmograph from the early 1990's in pristine condition. The watch features a black dial with diamond indices. This factory set dial has an inverted six dial which means that on the hour counter the number '6' is displayed upside down and reads as a '9'. Later models have the number 6 in the normal position.
The early inverted six Daytona models are sought after by collectors, you won't come across a black dial zenith daytona that often, especially not in full original condition. The watch also features the original early style 'slim hands' without luminous material. Furthermore this Rolex Daytona has an old style bracelet which could be recognized by the beautiful clasp which is the early type single lock clasp.

Condition
The condition of this Daytona watch is very good. It has recently been serviced by our watchmakers and comes with the original box and service invoice from the Rolex dealer. Unfortunately the first owner has not kept the original paperwork, for this reason we can offer this gold Daytona with diamond set dial for a very competitive price. Contact us for more information.
Trade in your vintage watch
At vintage times we are constantly looking for nice example to buy. Of course we trade in (modern and vintage) watches which could be interesting for our store or clients. Please don't hesitate to contact us for any trade offers on this Rolex Daytona.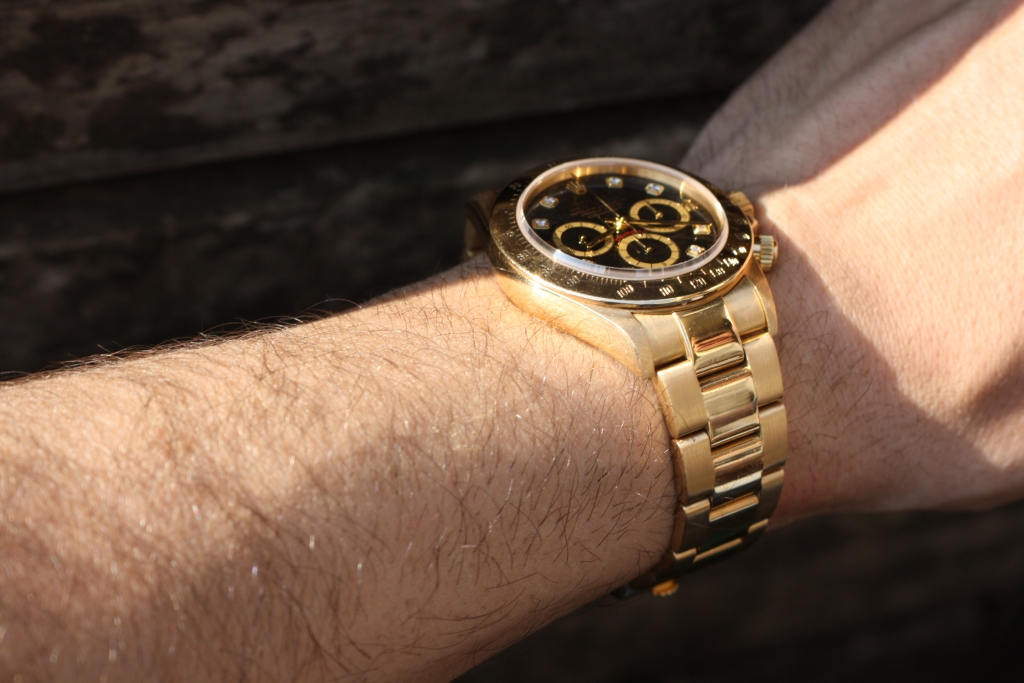 Specifications
Rolex Cosmograph Daytona
reference 16528
18k yellow gold
Inverted 6 diamond set dial
full original condition
with original box
1 year guarantee
Vintage Times is specialized in vintage and modern Rolex watches. Our office is located in the centre of Amsterdam. Please contact us for an appointment to view any of our watches for sale. We ship worldwide with fedex express.
On request it's possible to handle the transaction through the Chrono24 trusted checkout platform at additional costs, for reviews from our clients click on this link.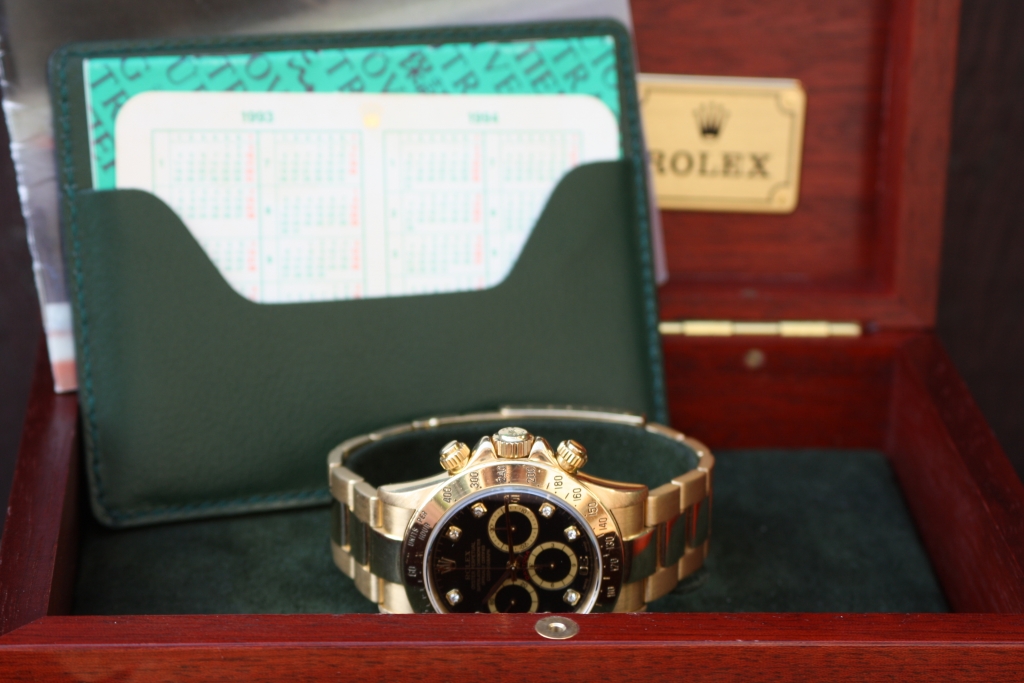 Inverted 6 (six) Rolex Daytona Cosmograph 'Yellow Gold'
[contact-form-7 404 "Not Found"]