Rolex 1016 Tropical dial 'Explorer'
Rolex 1016 Explorer, Beautiful and charming example from the 1960's. This early example has a Gilt dial with tritium indices and hands. The dial developed a beautiful chocolate brown color. We bought the watch from the son of the original owner, his father bought the watch back in 1965 after reading a story about the Rolex Expedition's where the Rolex Explorer fulfilled an important role.
Rolex 1016 Explorer 'Tropical' first owners watch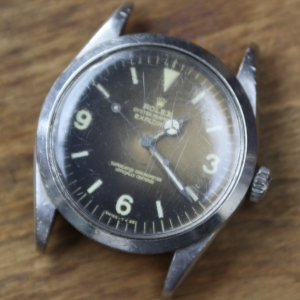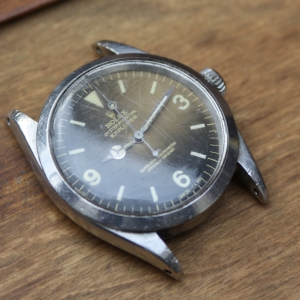 Above pictures shows the watch how we bought it from the previous owner. Unpolished condition with it's original tropic dome plexiglass crystal. Besides cleaning the movement and an original nos tropic crystal we decided not to touch the watch as the condition of this vintage Explorer is just stunning as it is.
The Rolex 1016 Explorer after a cleaning on Jubilee bracelet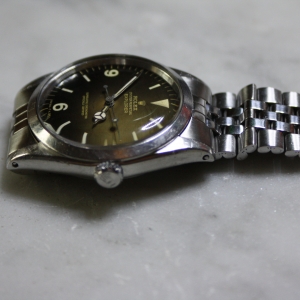 This watch is not for sale, at the moment we are looking for similar 1016 Rolex explorer watches. Please inform us if you sell a Rolex 1016 Explorer from the 1960's or 1970's
Vintage Times is specialized in vintage Rolex timepieces. Please contact us for any questions regarding you vintage timepiece
Vintage Times Amsterdam is gespecialiseerd in de verkoop, reparatie, inkoop en taxatie van vintage Rolex horloges. Voor onze clientele zijn wij constant op zoek naar bijzondere exemplaren voor onze webshop. Wanneer u overweegt uw vintage Rolex horloge te verkopen, restaureren of laten taxeren kunt u contact opnemen met ons via onderstaand formulier.
hieronder een overzicht van Vintage Rolex modellen die interessant kunnen zijn voor onze winkel om in te kopen. Voor eventuele vragen kunt u ons altijd bellen.
Rolex 1016 Explorer
Rolex 6610 Explorer
Rolex 6298 pre- explorer
Rolex 6253
Rolex 6305 Datejust
Rolex 6609 Turn o Graph
Rolex 6262 Daytona
Rolex 6239 Daytona
Rolex 5508 Submariner
Rolex 5513 Submariner
Rolex 1675 Gmt-Master
Rolex 6542 gmt-master
Naast deze modellen zijn we natuurlijk ook geïnteresseerd in andere mooie vintage exemplaren. Conditie en historie van het horloge zijn voor ons zeer belangrijk en bepalend voor de eventueel inkoop of verkoop waarde. Onder originele conditie verstaan we dat er zo min mogelijk onderdelen vervangen zijn bij eventuele service of revisies, bij een horloge uit de jaren 60′ is het dus belangrijk dat o.a. de wijzers, wijzerplaat en band ook uit dezelfde periode komen.
Als horlogeliefhebbers zijn wij altijd bereid u te adviseren over uw vintage horloge of mogelijke horloge aankoop. Graag delen wij onze passie en kennis, ook bent u van harte welkom op ons kantoor in het centrum Amsterdam. Bel graag wel even voor een afspraak
VINTAGE TIMES AMSTERDAM
High-end Vintage Timepieces
[contact-form-7 404 "Not Found"]