Description
Solid Gold Lighter set with diamonds and sapphire by Caran d'ache
This is a piece of high end luxury which you come across that often, a 18k solid gold lighter. The precious lighter is set with approximately 9 carat of flawless diamonds, furthermore the nib is set with natural blue sapphire gem stones. Not many solid gold lighters are known, most are gold plated or rolled. Some of the well known lighter brands make solid gold lighters. The new price for an 18k solid gold Dupont lighter set with diamonds is around 50k dollar.
We don't know what the new price was of the lighter we offer for sale because it's a piece unique. Caran d'ache is well known for making luxury pens and lighters. The company has a precious line for pencils made in gold with gem stone options, there are no other solid gold lighter known on the market from Caran d'ache. This unique lighter is fabricated by Caran d'ache while luxury manufacture 'DeLaneau' took care of the diamonds and sapphire casing. The lighter is signed on the bottom 'DeLaneau 750' and 'Cd'A' (C'aran D'Ache) on the mechanism.
Please don't hesitate to contact us for any additional information, questions and/or trade offers. We ship worldwide and also welcome you at our office in Amsterdam city,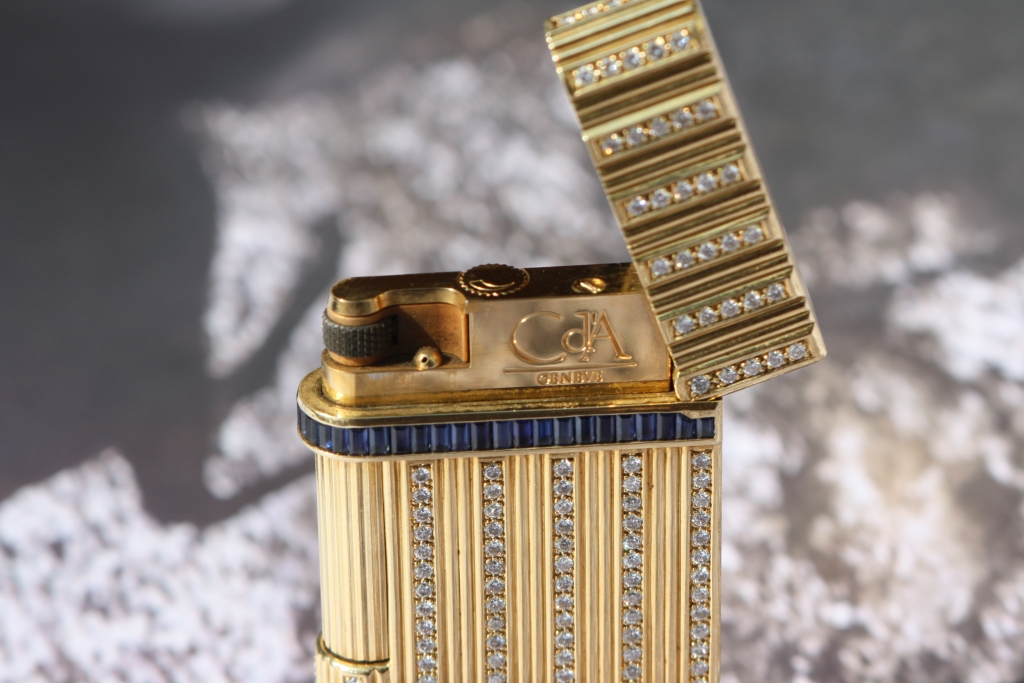 Solid gold lighter made by Caran d'Ache and DeLaneau. 18k solid gold set with flawless diamonds and blue sapphire
This rare and luxury lighter has been manufactured in the 1990's. It's the result of a collaboration between the luxury brand 'De Laneau' and pen and lighter manufacturer 'Caran d'Ache'. The body of this heavy lighter is made of solid 18k gold and set with briljant cut diamonds (approx. 9 carat) and baguette shaped sapphires around the nip.
Contact us for more information about this unique and rare luxury lighter.
You can contact us by phone, mail or WhatsApp. If you want us to contact you fill in the contact form below.
VINTAGE TIMES
[email protected]
phone/whatsapp +31 6 41111 044
instagram: @watches_in_amsterdam
[contact-form-7 404 "Not Found"]
Check our watches for sale