Description
Cartier Platinum and diamond set pocket watch from the 1920's
Discover the Exquisite Platinum Cartier Pocket Watch – A Timepiece of Unparalleled Elegance. Coming up for sale soon, don't hesitate to contact us for more information, photos and videos.
Step into a world of refined luxury with this exceptional Platinum Cartier Pocket Watch, a true treasure from the 1920s. Crafted during a time when platinum was incredibly rare, this watch showcases the utmost craftsmanship and sophistication that Cartier is renowned for.
The bezel of this pocket watch is adorned with diamonds of the finest quality, a testament to Cartier's commitment to using only the most exquisite gemstones. These dazzling diamonds add a touch of opulence and elevate the overall aesthetic of the timepiece.

This Cartier measures 44mm in diameter and has a very flat case, which is very appealing to the eye and perfectly fitting a gents hand. It's perfect balanced size is complemented by a hand-wound movement, allowing for a tactile and intimate connection with the watch. The single crown serves both as a winding mechanism and a time-setting function, offering convenience and simplicity in its design.
The movement of this remarkable pocket watch was crafted by the esteemed firm Touchon & Co. Known for their precision and attention to detail, Touchon & Co created a masterpiece with 19 jewels and 8 adjustments, ensuring accurate timekeeping and a smooth operating experience.
As an extremely rare pocket watch, it exudes a level of elegance and sophistication that was truly ahead of its time. The combination of platinum, diamonds, and meticulous craftsmanship makes this timepiece a true collector's item and a testament to the opulence and grandeur of the era in which it was created.
Indulge in the allure of vintage luxury with this exquisite Platinum Cartier Pocket Watch. Visit our website today to explore our curated collection of exceptional timepieces. Let your pocket or neck be adorned with a timepiece that tells a story of timeless elegance and opulence.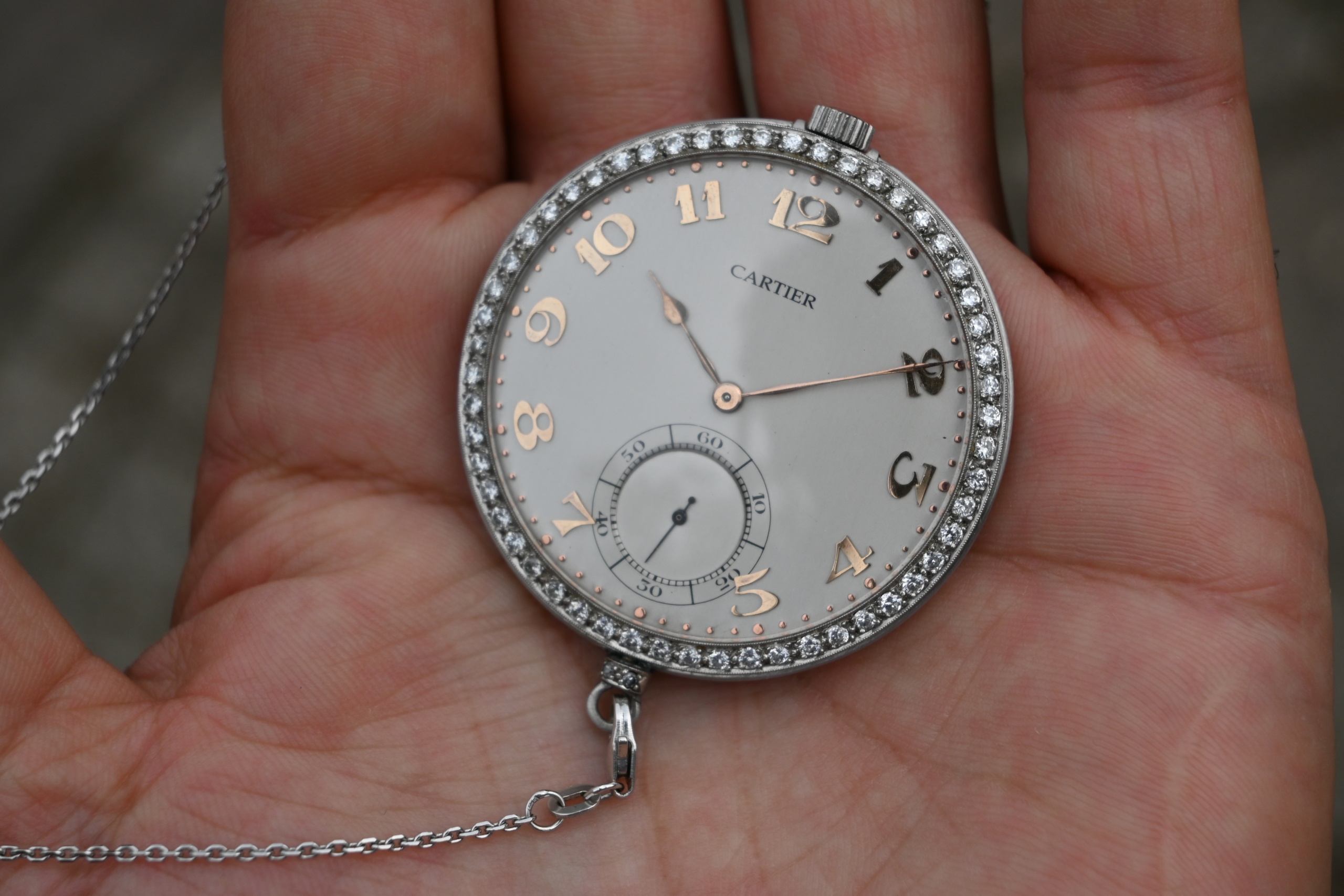 Vintagetimes – Where Time Embraces History. Rediscover the art of horology and let your style transcend the boundaries of time. Experience the sophistication and grandeur of vintage luxury with every glance at your wrist or adornment around your neck.