Description
Rolex 1680/8 Submadiner date Yellow Gold 1970's
Introducing the Timeless Elegance of the Rolex Submariner Yellow Gold – A Horological Masterpiece. Coming up for sale soon. Don't hesitate to contact us with any questions regarding this vintage Rolex Submariner Date.
Welcome to Vintage Times Amsterdam, your premier destination for exceptional vintage timepieces. We are thrilled to unveil a true horological treasure – the Rolex Submariner 1680/8 with a Plexi crystal in Yellow Gold. This iconic watch from the 1970s radiates timeless allure, making it an essential addition to any discerning collector's repertoire.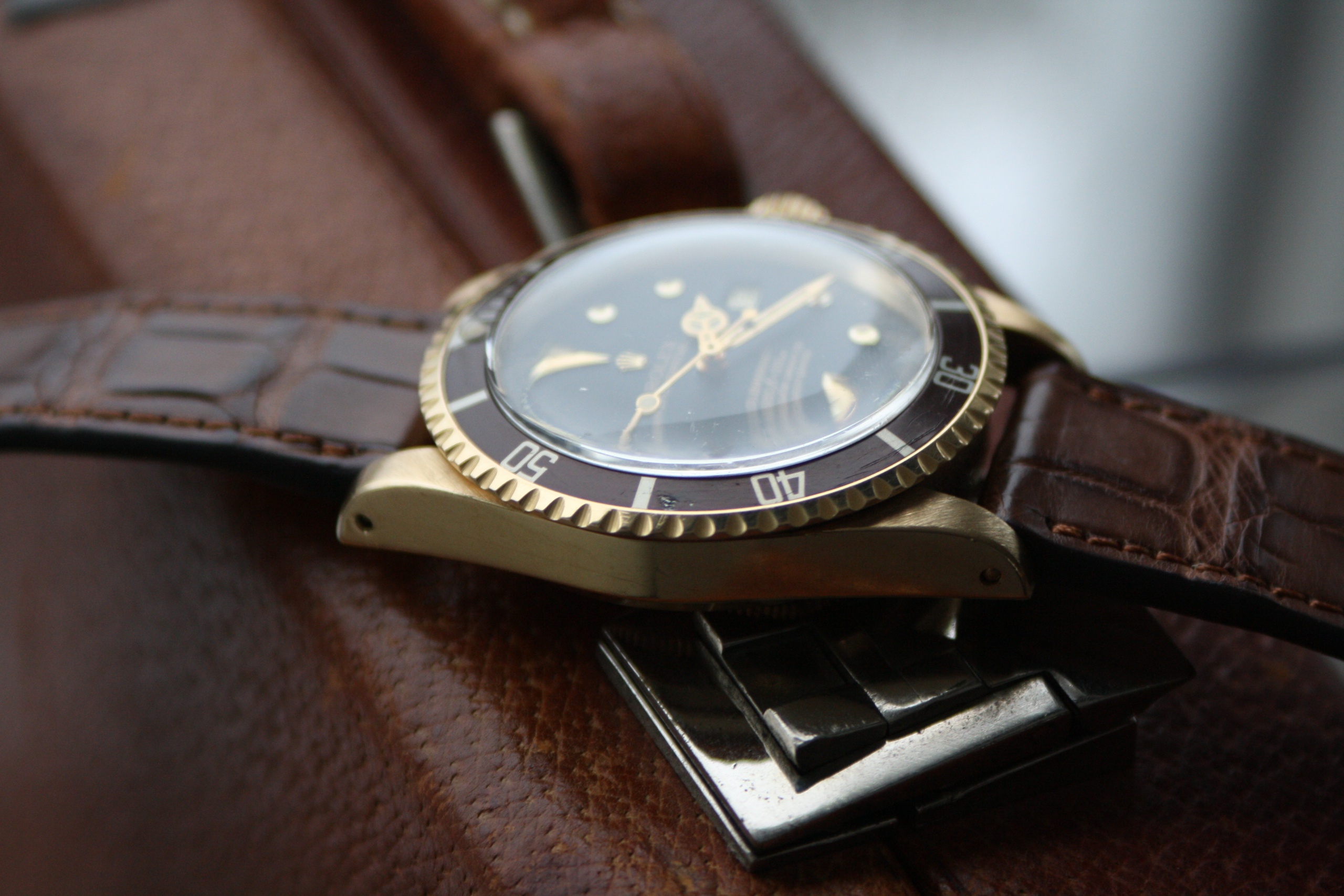 The watch is accompanied by an original vintage Tropic 19 crystal, which adds to its authentic vintage appeal. In addition, we provide an original crystal with a cyclops and a new bezel insert, allowing you to customize your watch to your preference. This incredible set gives you the flexibility to choose the desired look and functionality for your Submariner. Whether you prefer the vintage charm of the Tropic 19 crystal or the convenience of the cyclops magnifier, the choice is yours. Here you can see how the watch looks with a new bezel inlay and crystal.
Meticulously crafted in 18k yellow gold, this extraordinary timepiece showcases a captivating black nipple dial and a rotating diver's bezel adorned with a beautifully aged brown bezel insert. Its sleek and sophisticated design is a testament to Rolex's unwavering commitment to craftsmanship and attention to detail.
The case of this remarkable watch is in exceptional condition, boasting robust facets that enhance its depth and character. Preserved in its original state, it has never been paired with a gold bracelet, retaining its pristine allure. This example has been minimally polished or touched. The Submariner in yellow gold was originally offered with options for a leather or gold strap, allowing for versatile styling.
The mint and untouched matte nipple dial exudes timeless elegance, complemented by hands and tritium indexes that have gracefully aged to a beautiful yellow hue. This harmonious coloration adds a touch of vintage charm, capturing the essence of its distinguished heritage.
Discovering a Submariner in yellow gold of this caliber is a rare find indeed. Its exceptional condition and distinctive features make it an exceptional addition to any watch collection.
Rest assured, this Rolex Submariner Yellow Gold comes with a one-year warranty, providing you with the peace of mind and assurance of its authenticity. We stand behind the quality and authenticity of our timepieces, ensuring your utmost satisfaction.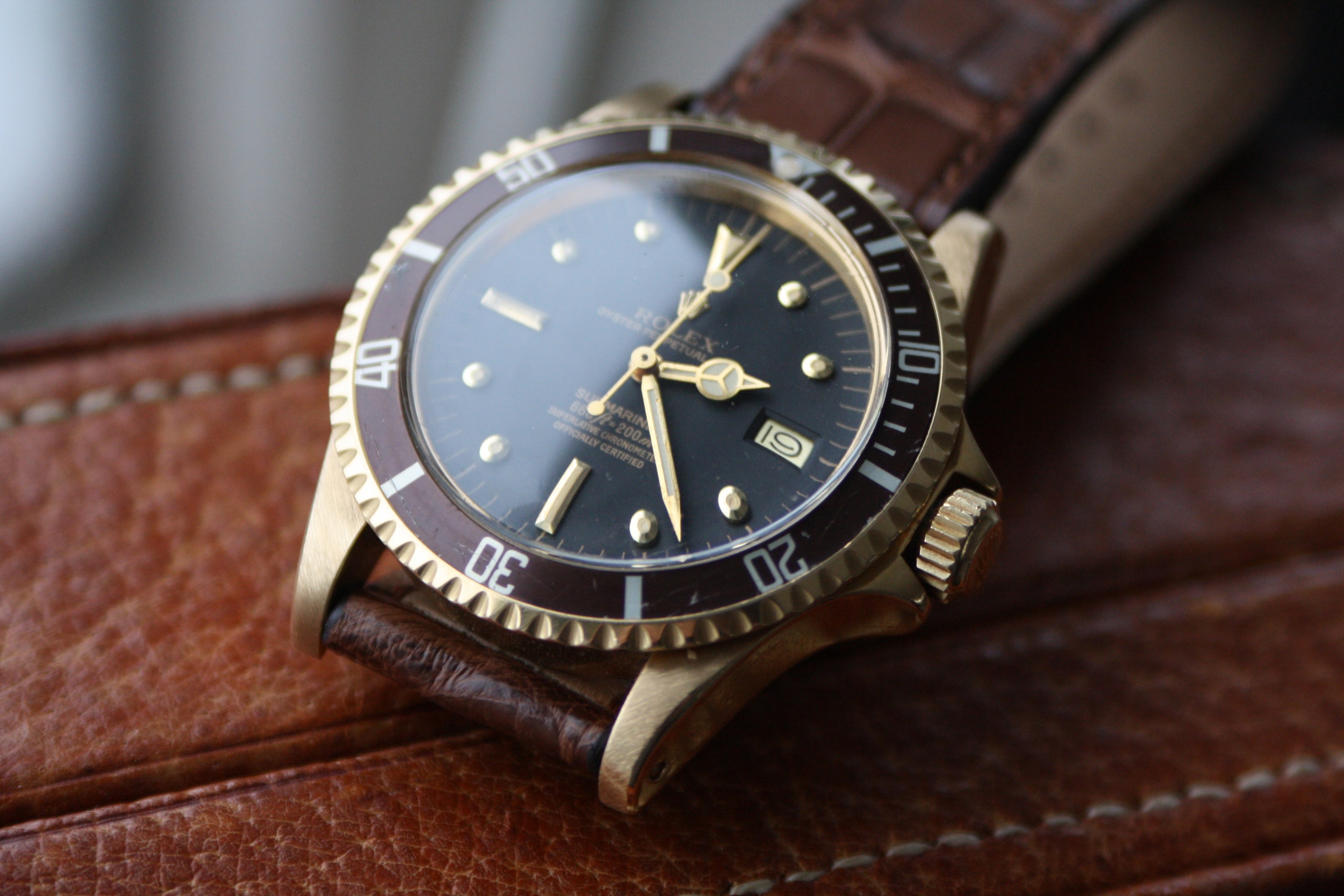 Immerse yourself in the captivating allure of the Rolex Submariner Yellow Gold. Explore our curated collection at Vintage Times Amsterdam, where exceptional timepieces await to tell their unique stories. Rediscover the artistry and craftsmanship that transcend time.
Vintage Times Amsterdam – Where Time Embraces Elegance. Experience the timeless beauty of horology and adorn your wrist with a watch that captures the legacy of Rolex's iconic Submariner.