Description
18th century Verge Fusée pocket watch signed Gagnebin Paris
Discover a rare 18th-century quarter repeater pocket watch, a true gem crafted by the esteemed Gagnebin family, renowned high-end watchmakers of their time. Founded by Daniel Gagnebin and Frédéric-Guillaume Gagnebin, both sons of the esteemed Swiss physician and naturalist, Abraham Gagnebin, this distinguished family left a lasting mark on horology.
Notably, the legendary Jacques-Frédéric Houriet, founder of Swiss chronometry and inventor of the spherical balance spring, apprenticed under Abraham Gagnebin. Their collective expertise and innovation in watchmaking set the stage for some of the most exquisite timepieces of that era.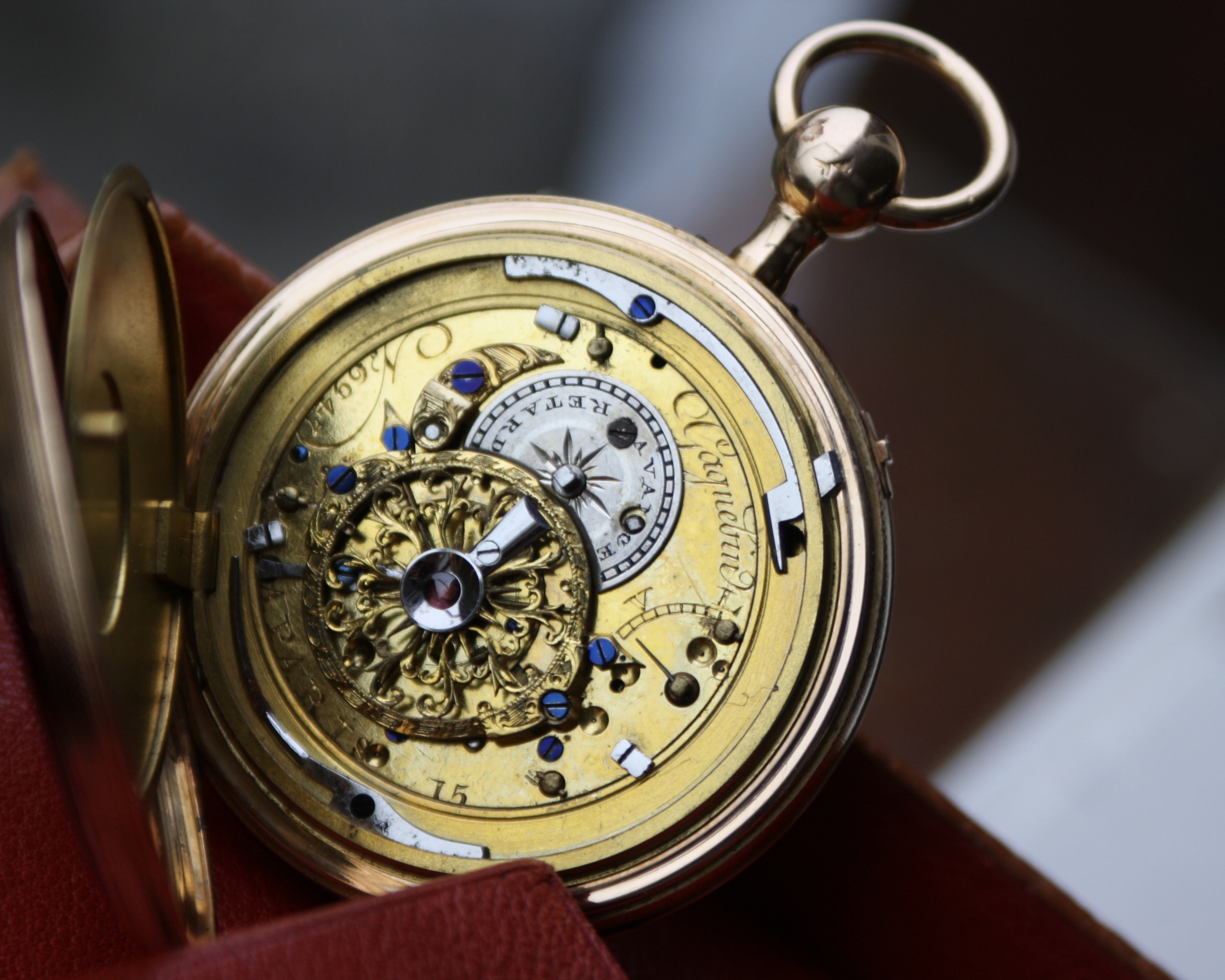 While the exact production date remains a mystery due to limited archive information, thorough research and consultations with the current Gagnebin family suggest a dating to the late 18th century (circa 1770/1780). An intriguing aspect is the Paris signature, signifying its potential creation either in Paris by Frédéric-Guillaume Gagnebin or in Switzerland by Daniel Gagnebin. This practice of signing watches with the city name of the clientele, such as London or Paris, was common for high-end Swiss pocket watches.
The meticulously finished movement echoes the artistry of Jacques-Frédéric Houriet, indicative of the limited number of families involved in crafting extravagant Swiss pocket watches and movements during that time. Likely sold to a wealthy or royal individual, this exceptional timepiece features a quarter repeater system operated by a chain under the dial, a testament to true craftsmanship. The watch's winding is performed with a key, showcasing the verge fusee movement type, decorated and finished to the highest degree.
The 18k solid rose gold case, adorned with a reddish-pink enameled back plate, adds to its opulence. The gold dial boasts a stunning Guilloche pattern, beautifully complemented by blued steel hands, creating a visual masterpiece.
The exceptional combination of enamel, a quarter repeater with a chain mechanism, and the fascinating history of the Gagnebin family's direct connection to Jacques Frédéric Houriet, the luminary behind the spherical balance spring invention, make this timepiece a truly rare find.
Unearth this hidden gem, a masterpiece of Swiss watchmaking history, and embrace its captivating narrative. A symbol of extraordinary craftsmanship, innovation, and elegance, this 18th-century pocket watch encapsulates the essence of a golden era in horology.