Description
Rare and attractive Mido multicenter chronograph
About the watch
For sale is this Mido multicenter chronograph in steel and rose gold. It has a 35mm Francois Borgel case with tasti tondi pushers in pink gold, the pushers are the same as on the famous Patek Philippe 1463 chronograph watch.
The condition of the watch is very good, the case is made of steel and gold, the rose gold part of the watch is integrated in the case, therefore this is no gold plated watch but a real two tone example. The copper color dial matches very well with the case and is astonishing too.
We havent seen other rose gold and steel Mido Multicenter chrono watches so far, this watch has originally been found in Cuba, there has been written a small article on Hodinkee of this particular watch which you can find here.
The watch is fitted on a leather strap, however we can supply the watch with a solid rose gold period correct bracelet. Originally this bracelet was fitted on a Vacheron wristwatch but on request we can supply it with the Mido Multicenter as it matches very well.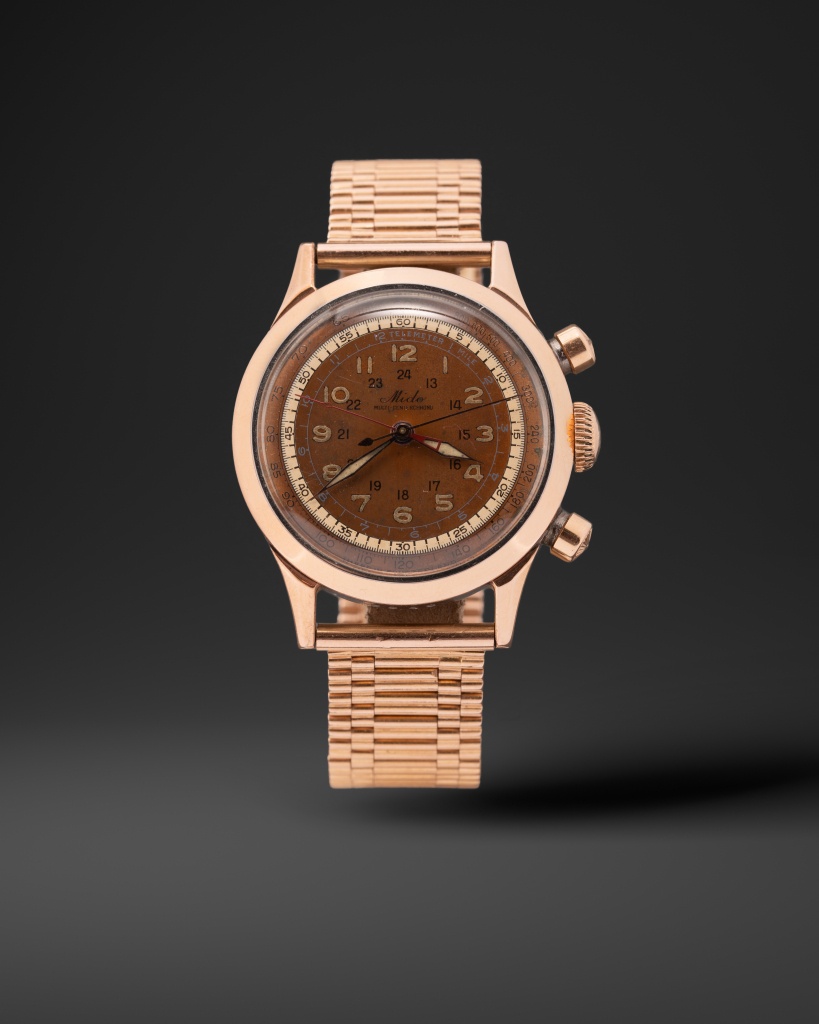 This mido chronograph is attractive for many reasons, what makes it different from other chronographs is the lack of chrono counters on the dial. The Mido Multicenter has two chronograph hands, one measures the seconds like a regular chronograph while the second hand measures the minutes on the outer track. This chronograph timer based on a valjoux manual wound movement is patented by mido in the 1950's. Mido advertised this watch with the slogan: 'the only chronograph watch which looks like a normal watch' as the dial shows no counters for the chrono.
Also the case is worth notifying, it has been produced by the Francois Borgel (later Taubert & Fills) who also produced the watch case for the famous Patek Philippe 1463 chronograph. The watch also share the same 'tasti tondi' pusher with that famous Patek chronograph. The contrast of the steel and gold case with rose gold turbine shaped pushers is beautiful in every way.
Please contact us for more information about this mido Multicenter chronograph we are happy to answer your questions and give you more information on the watch. We ship worldwide and trade in timepieces as well.
Vintage Times NL 
Rare and exclusive vintage timepieces
tel / whatsapp +31 641 111 044
e.mail [email protected]
Find out other vintage timepieces here or send us a message through the contact form. You can also email us at [email protected] for more info.