Description
Rolex Daytona 6263 Big Red Silver dial 1980
Rolex Daytona 6263 Big red from 1980. This Rolex Daytona Big red features the silver dial with big red Daytona writing.. The watch condition is mint and fully original, it shows minimal signs of wearing and polishing. The factory bevels are untouched and remains strong, this Daytona has not been worn much as we can see from its outstanding condition.
The dial from this Rolex Daytona 6263 Big red remains in top shape. All tritium dots are present and the dial and hands show minimal to no signs of wearing. This type of dial was nicknamed by collectors as a "Cream dial" due to its warmer hue compared to the normal silver dial, this particular dial variant appeared in the 6263/6265 references produced from the late 70s to early 80s.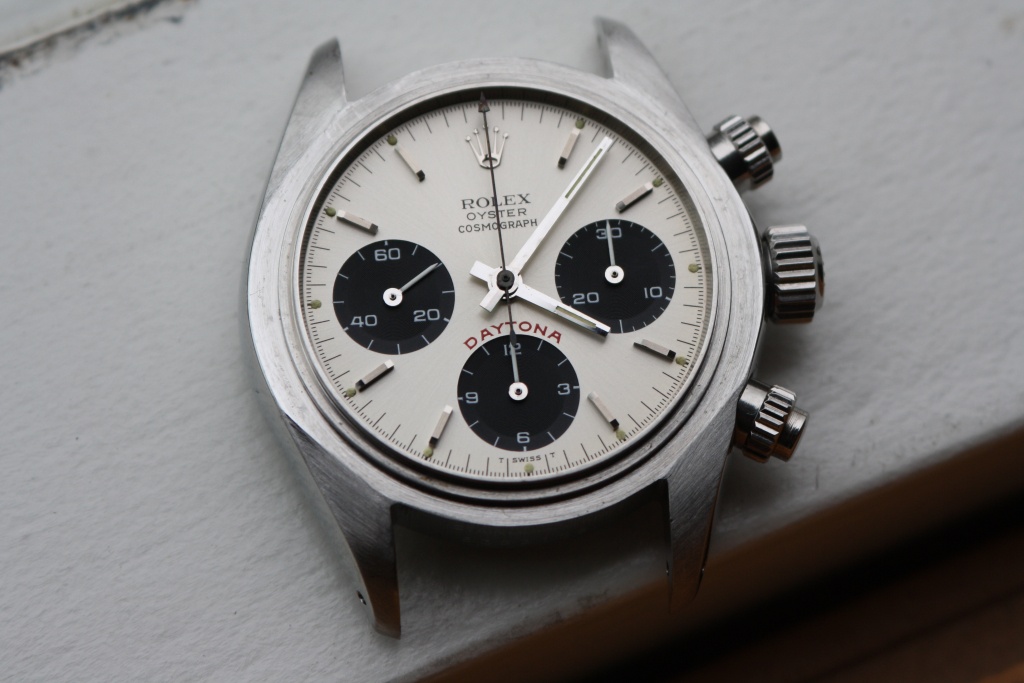 The Rolex 6263 Daytona Cosmograph
The Rolex Daytona was introduced in the early 1960's. This year the Rolex Daytona is officially celebrating it's 60th anniversary. The Rolex 6263 big red Daytona is known for its silver or black dial with Red Daytona writing. The 6263 was equipped with different kind of pushers during it's lifetime, also many examples have their pushers changed during service. This Rolex 6263 big red has the original Mk2 pushers, with its production year being 1980 this is one of the last generations of the Rolex Daytona watches with this particular pushers. Read more about the current Rolex Daytona model on the official Rolex website.
About the watch
We sell this Rolex Daytona with 1 year full guarantee, we also guarantee all parts of the watch being carefully checked and being fully original. The movement of the watch is maintained extremely well and looking amazing too, also the engravings and serial numbers are crisp as it can get. The watch comes on the original 78350 bracelet dating back to 1980 with the correct 571 end links.
Watch Details
Rolex 6263 Daytona Big Red
Silver 'Cream Dial'
caliber 727 high-beat
year 1980
serial 639,xxxx
37mm case size
78350 bracelet clasp code G
1 year full guarantee
About Vintage Times
Vintage Times is a one man collector's shop located and originated in Amsterdam. The company is driven by passion for vintage timepieces and luxury. We basically trade online but also welcome you at our location in the centre of Amsterdam for watch viewings, watch talk and coffee. The mission is to sell unique and high-end timepieces in different price segments. We work with a price on request label, don't be discouraged to ask us for our prices and trade possibilities!
The philosophy is that watches could be considered rare if there are not many around, the condition is extremely good or it has an interesting history. As hunting watches is a never ending journey Vintage Times is always looking for well preserved watches to extend the collection. I do only sell watches I personally like and wear, with that in mind I'm able to source the best quality vintage timepieces as a valuable asset for my clients.
As collecting watches is the common passion for me and my clients im always happy to answer your watch or non watch related questions. Don't hesitate to contact us for all your watch related questions, offers or more information. Vintage Times is a known name into the world of collecting vintage timepieces, we also participate and try to visit the main auction events over the world.
Vintage Times Amsterdam
high-end vintage timepieces