Movado Vintage watches by Vintage Times
In this article we want to highlight some very interesting watches made by movado. The company has made various watches from quarts museum watches till high end M90 / M95 chronograph timepieces. Our company is always looking for interesting vintage Movado timepieces. If you have an interesting piece for sale please don't hesitate to contact us.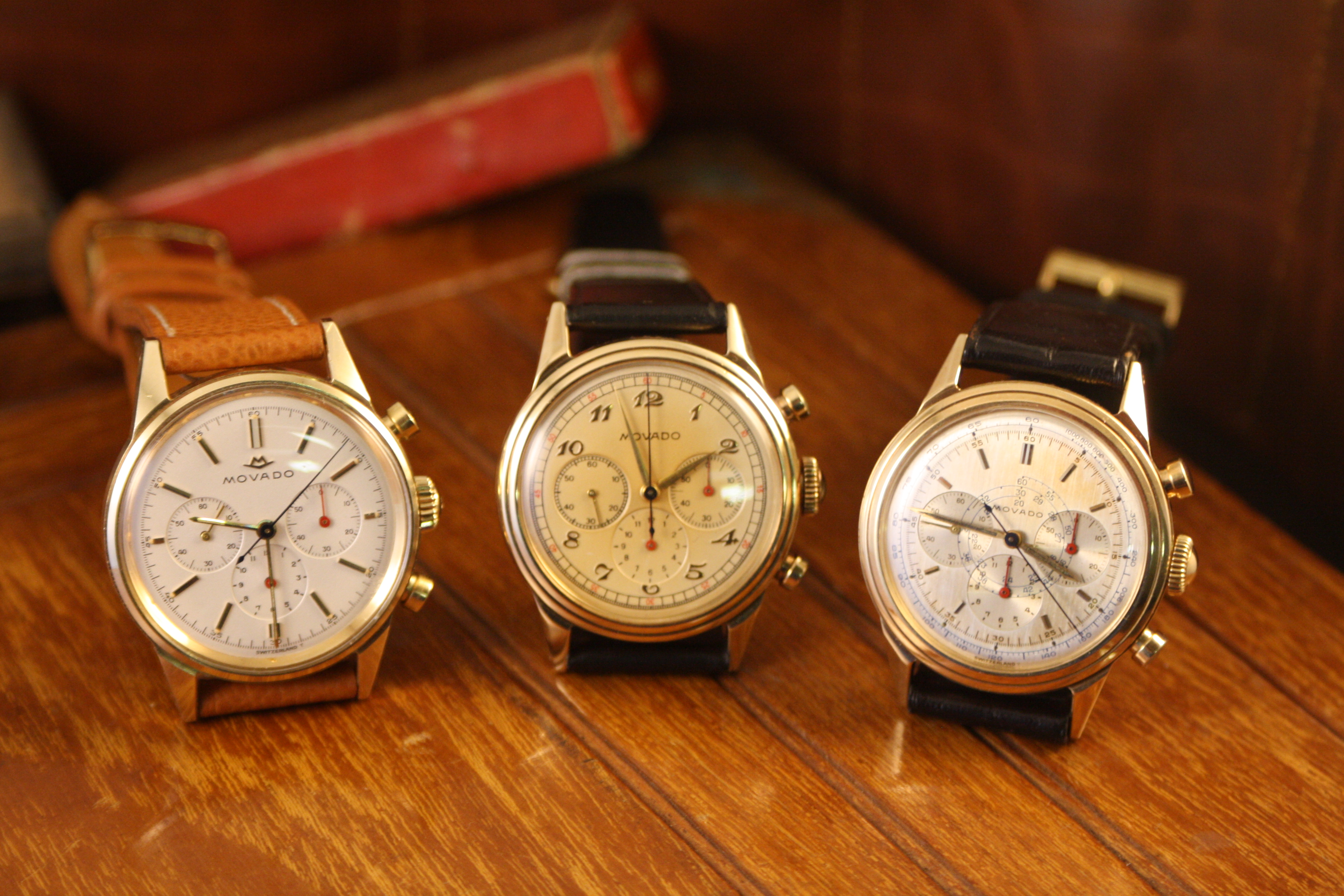 Movado watches from the 1950's and 1960's are high end quality timepieces. Some of them have very interesting watch cases made by Francois Borgel / Tauber & Fills. Chronograph watches are featured with the inhouse m90 and m95 caliber.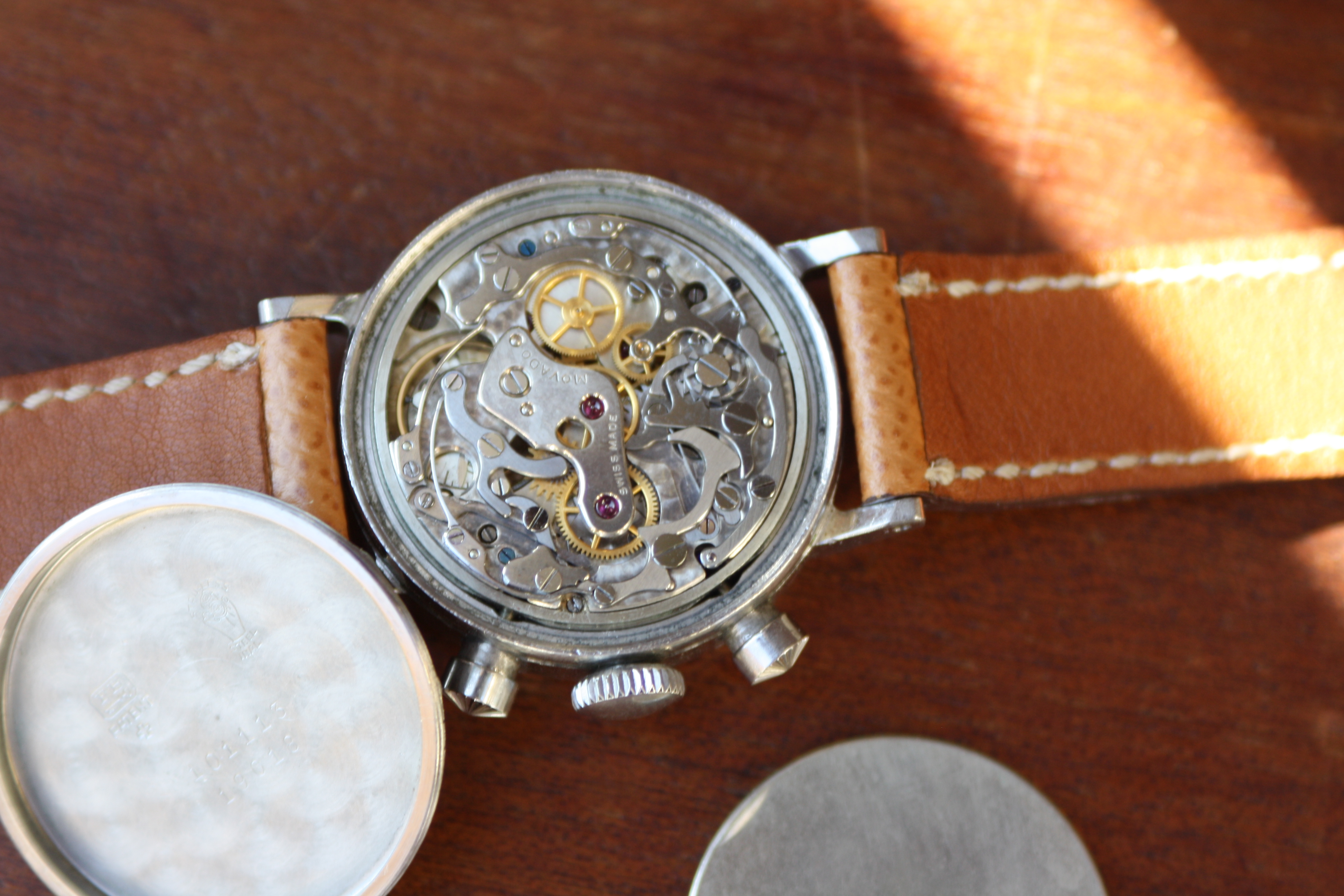 Movado Company
The Movado company has made lot's of watch models and some of them are very interesting. The quality of the high-end line from the early days is outstanding and the design of the watches is a lust for the eye. Some vintage Movado watches may look very similar with Patek Philippe watches because the brand used similar style watch cases made by the same case supplier as Patek.
FB case
The cases from  casemaker Francois Borgel are known for their waterproof designs with screwback case design. Also dials are known to be acquired from the Stern company who was supplier for Patek Philippe, Rolex and other brands as well. Dials with the beautiful shaped numerals (often in blue) are very sought after by collectors. The Movado Breguet dial's are maybe the most sought after dials.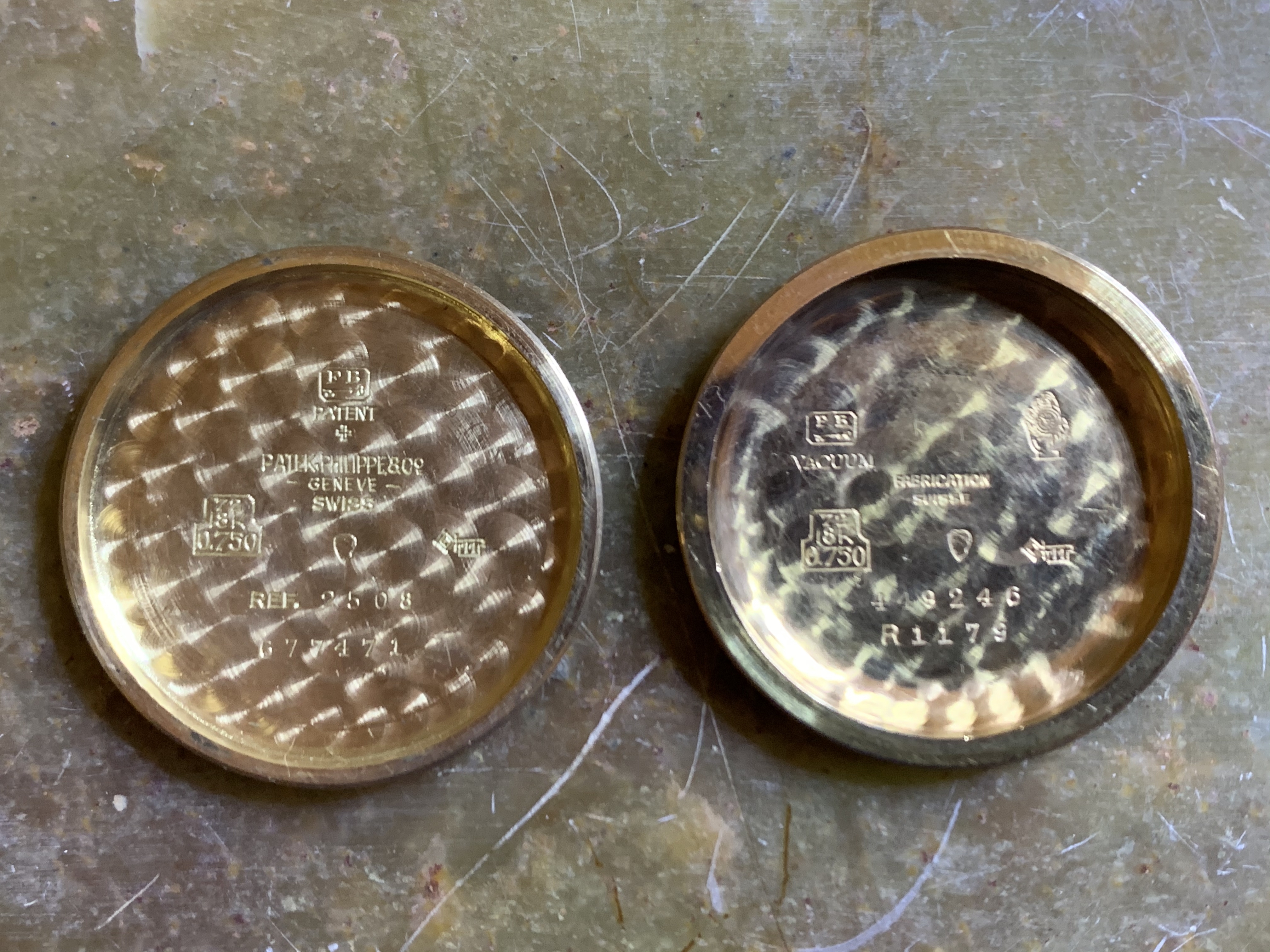 Movado Breguet Dial
The most interesting Movado watches are the examples with Movado Breguet dial's as shown below (left watch). Movado chronograph watches with other  dials could be very interesting as well, the condition and size of the watch are very important aspects. Case sizes from 35mm and bigger are considered the most interesting. The classic men size back in the 40's and 50's was around 33mm so it may be hard to find a 35mm or bigger piece.
Buying and Selling Movado watches
When buying a Movado watch it could be very difficult to find one in full original and good condition. Also there are a lot of Movado watches which are to small for wearing these days, think about 30mm cases or smaller.
When buying a Movado watch we can only suggest to go for quality. It may be hard to find but a mint condition Movado is much more interesting then a restored or damaged example
Contact us when you want more information about vintage Movado watches or when you need advise buying one. Also we are very interested to buy unique and rare Movado chronograph pieces so don't hesitate to contact us.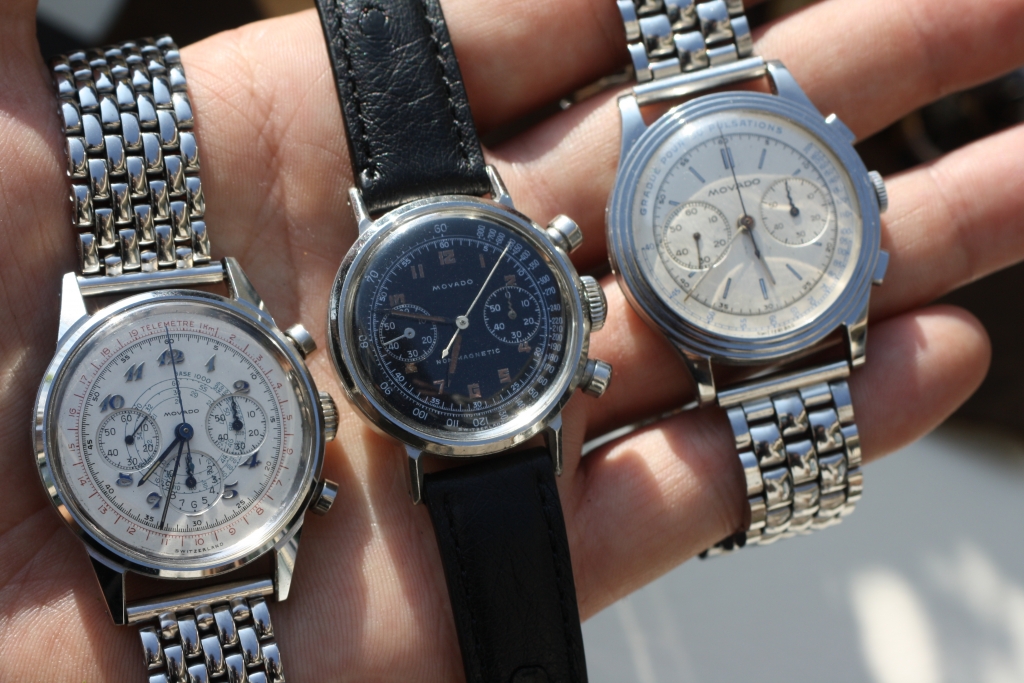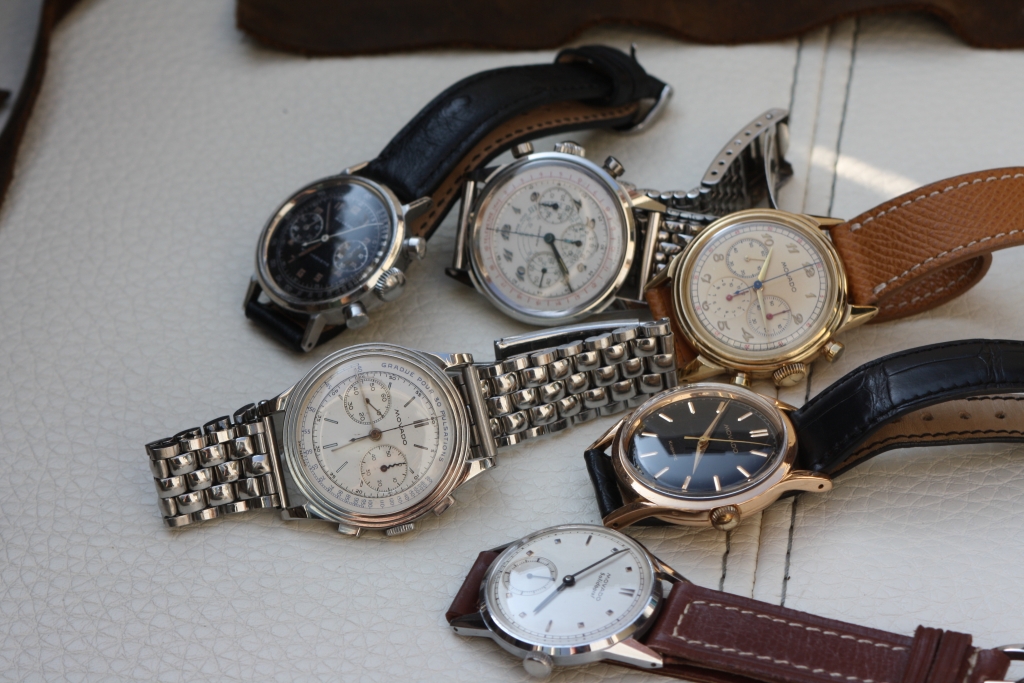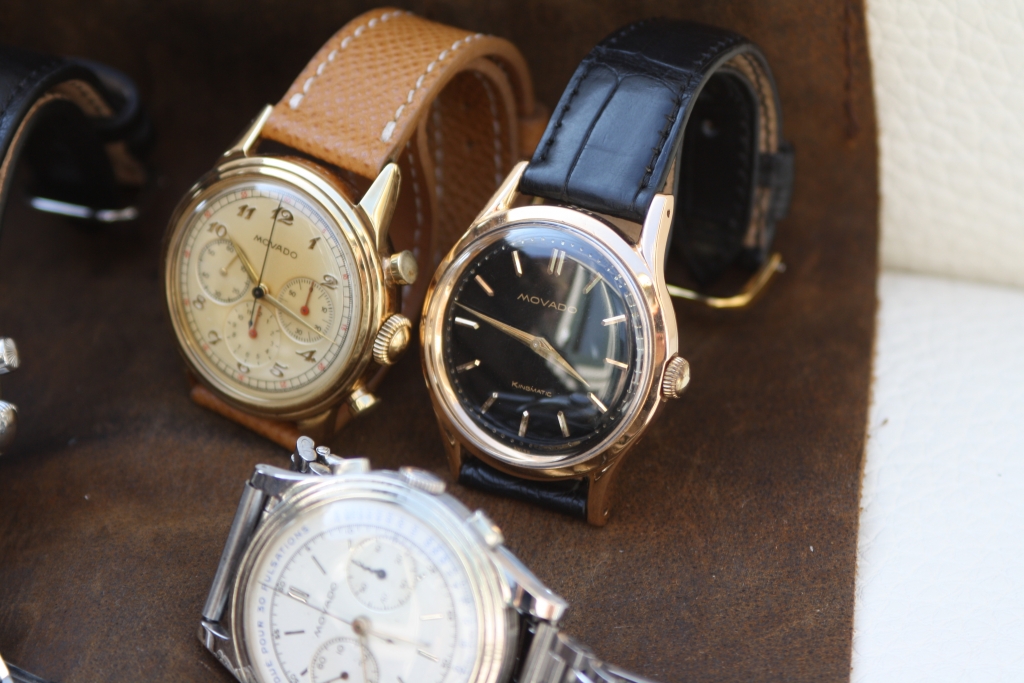 Vintage Movado horloge verkopen in Nederland? Neem contact op met onze sales via [email protected] of bel ons.
Wij zijn gevestigd in Amsterdam en hebben een vintage horlogewinkel gespecialiseerd in high-end horloges en vintage chronograaf horloges. Merken die wij zoeken zijn bijvoorbeeld; Patek Philippe, Longines, Mido, Movado, Leonidas, Rolex, Tudor en meer.
We hebben een ruim aanbod aan vintage horloges van diverse merken en in een diverse prijs range. U kunt ook bij ons terecht voor de inkoop of bemiddelen bij verkoop van uw horloge.
Vintage Times Amsterdam
high-end vintage watches
Vintage Times Amsterdam
whatsapp: +31 641 111 044