Description
Alpina Gruen Steel wristwatch from the 1930's
Step into a world where time isn't just measured; it's celebrated. Welcome to the realm of the Alpina Gruen Vintage Watch, a horological marvel that resonates with history, craftsmanship, and a touch of captivating allure. As we proudly showcase this exquisite timepiece on our website, we invite you to explore the legacy it carries and the story it's waiting to tell.
A Journey Through Generations
Alpina Gruen isn't just a name; it's a lineage of watchmaking excellence that has spanned over a century. Founded by the visionary Gruen family in 1884, this brand has consistently pushed the boundaries of innovation while upholding the finest traditions of watchmaking. With every tick of an Alpina Gruen timepiece, you're connecting with generations of craftsmanship and a passion for the art that has only deepened over time.
Where Elegance Meets Time
The Alpina Gruen Vintage Watch isn't just a watch; it's an embodiment of a bygone era's elegance. This timepiece is a tribute to an age when precision and style weren't just features – they were a way of life. The vintage charm of this watch isn't confined to its design; it's a narrative that captures the spirit of yesteryears and brings it to life on your wrist.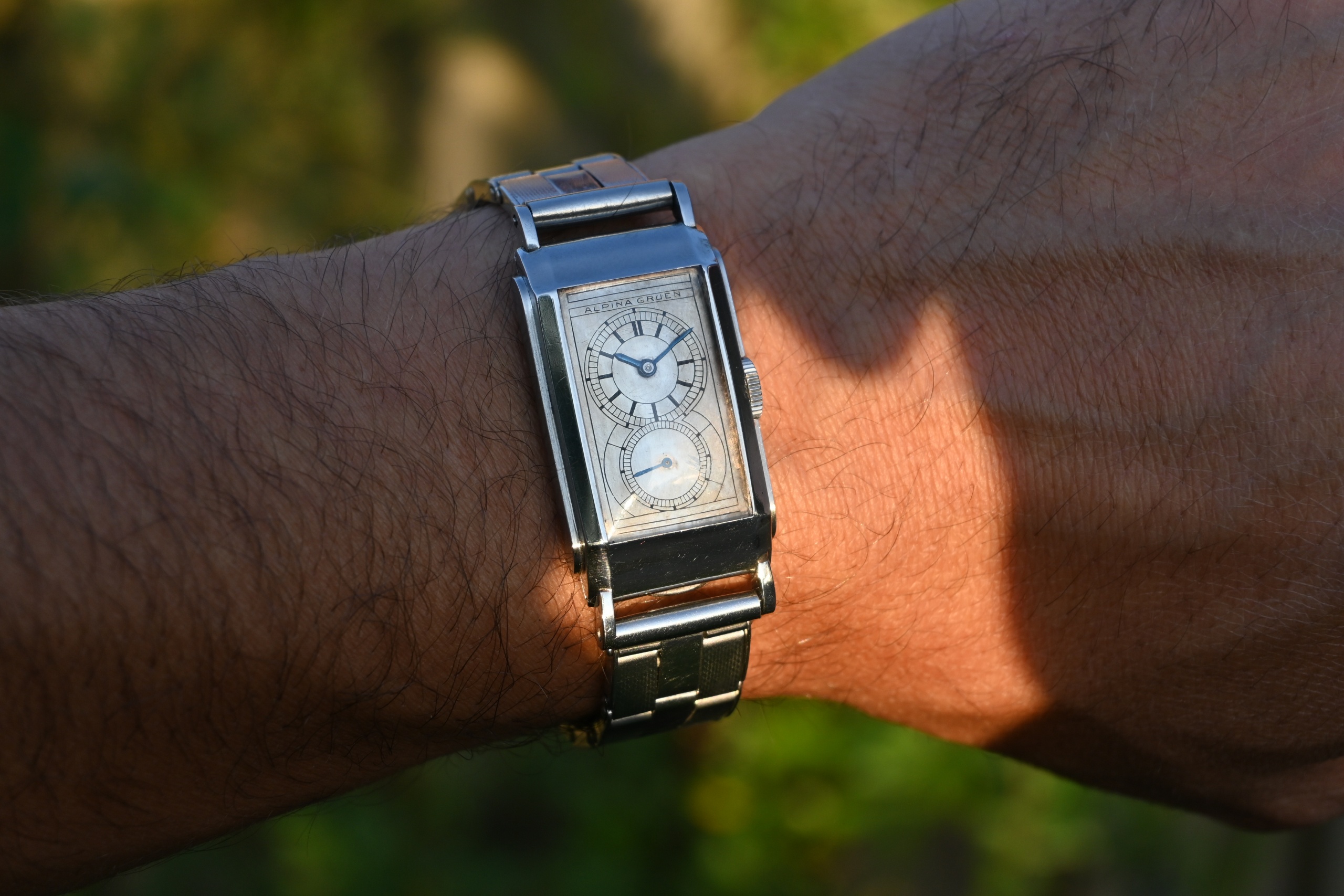 Crafted for Connoisseurs
Delve into the heart of an Alpina Gruen Vintage Watch, and you'll discover the symphony of watchmaking mastery. The meticulous movement, each gear and spring, is a testament to the brand's unwavering commitment to craftsmanship. It's a blend of art and engineering that transforms timekeeping into a true experience, reminding you that you're not just wearing a watch – you're embracing a legacy.
A Time Capsule of Moments
Owning an Alpina Gruen Vintage Watch isn't just about possessing a timekeeping instrument; it's about becoming part of a narrative. With every glance at your wrist, you're transported to moments and milestones that have been marked by this watch's presence. Whether you're closing a business deal, embarking on a new adventure, or simply savoring a quiet moment, this timepiece is there, encapsulating every second in elegance.
A Legacy That Appreciates
Beyond its captivating design and timeless allure, an Alpina Gruen Vintage Watch is an investment in the future. These watches aren't just tokens of luxury; they're heirlooms that gain value with time. As you wear it and pass it on to the next generation, you're sharing not just a watch but a piece of history, a legacy that resonates with excellence.
Your Time to Embrace Elegance
The Alpina Gruen Vintage Watch is more than an accessory; it's an expression of who you are. It's a statement that echoes your appreciation for craftsmanship, your love for timeless beauty, and your understanding of what it means to connect with history on a personal level. This watch isn't just waiting to be worn; it's waiting to be experienced.
A Rare Find from the 1930s
Unlock a Slice of Horological History: Alpina-Gruen's Rare 1930's Doctors Wristwatch
Step into a time capsule of the 1930s and embrace a piece of watchmaking history with our rare find – the Alpina-Gruen Doctors Wristwatch. This horological gem, fueled by the prestigious Aegler Caliber 877, offers not only the mark of precision but also an intriguing connection to Rolex Prince timepieces.
Back in the 1930s, both Gruen and Rolex held stakes in the renowned Aegler movement company. The Aegler Caliber 877, powering this exceptional watch, is a testament to the shared commitment to horological excellence between these iconic brands.
An exciting aspect of this wristwatch's lineage is its journey across continents. While Rolex was mainly targeting European audiences, Alpina-Gruen was actively carving its niche in the vibrant US market. The result is a piece that reflects a transatlantic legacy of craftsmanship and style.
The heart of this timepiece lies in its steel 'staybrite' case – a testament to the enduring quality that the watch carries. The sought-after silver dial adds a touch of understated elegance, capturing the essence of the era. It's not just a watch; it's a piece of wearable art that tells the story of an era.
Are you a collector with an appreciation for history? Are you looking to enrich your collection with a watch that encapsulates a rich past? This early Alpina-Gruen Doctors Wristwatch is more than a timekeeping instrument; it's a bridge to a different time, a different world.
Elevate Your Collection
Seize the opportunity to own a slice of watchmaking history. Don't hesitate to reach out and learn more about this exceptional Alpina-Gruen Doctors Wristwatch. Your collection is about to gain a truly historical touch that transcends time and continents. Embrace the Alpina Gruen Vintage Watch, now available on our website. Let this timepiece become part of your story, your journey, and your legacy. Elevate your moments with a touch of elegance that transcends time. Discover the Alpina Gruen way of celebrating time – a journey that's as personal as it is timeless.