Description
Rolex 6265 Yellow Gold wristwatch from 1979
Rolex 6265 from 1979 in perfect condition. The watch dates back to the end of the 1970's and is made from 18k solid gold. It has been extremely well preserved, the watch has been worn on a leather strap for most of its life. We bought the watch from the son of the first owner, the first owner bought it new in 1979 and has taken very good care of the watch. The case remains unpolished and in good shape as well as the bezel and tritium dial.
The watch comes with original box, booklets and recent invoice from Rolex Singapore.
The Rolex Daytona
The Rolex Cosmograph Daytona is a very collectible wristwatch today, back in the days the Rolex Daytona was not extremely popular, it was hard to sell at the dealers. Most people buying a Daytona wristwatch needed a chronograph, they where also charmed by the great quality of the watch with its waterproof case and three register chronograph timer. Because of the chronograph function the watch has always been popular in the racing industry therefore Rolex decided to use the name 'Daytona' for their chronograph watches.
Inside is running the valjoux based Rolex caliber 727. The movement remains in perfect condition and no parts have ever been changed, it's running and working perfectly. It has been carefully checked by our watchmaker and we give 1 year guarantee on the watch.
This Rolex 6265 is one of the best examples we have seen before, the condition of the case, dial and movement is what makes this a very desirable example. On request we can share more information about the history and provenance about the first owner who bought it new back in 1979.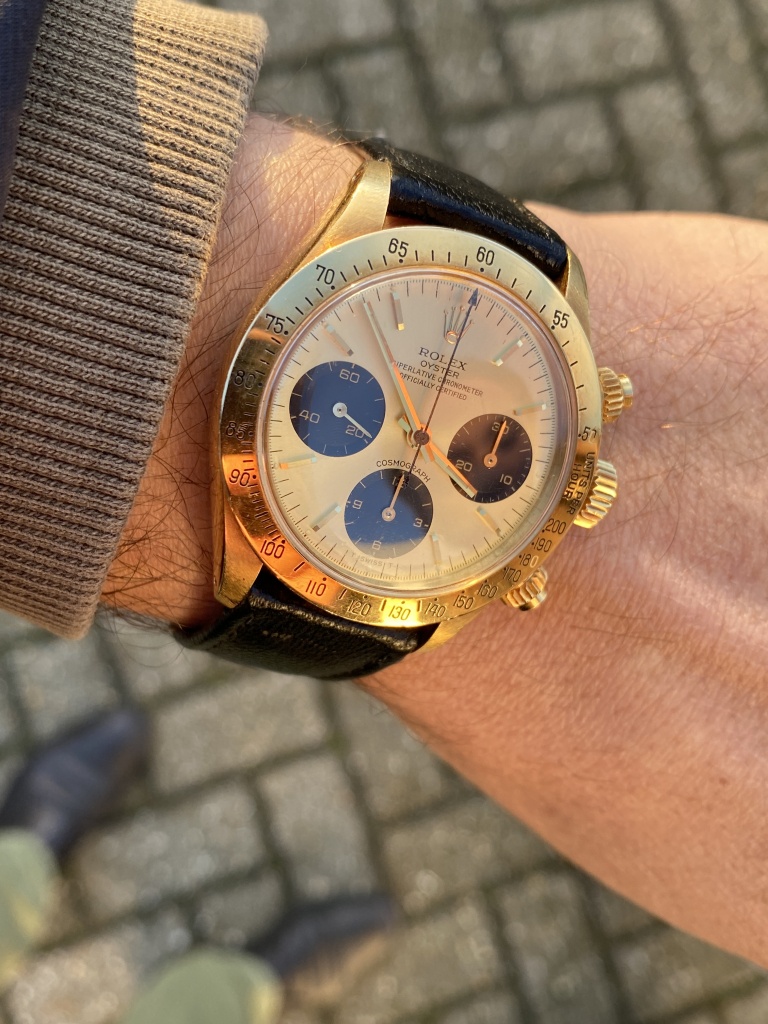 Please let us know when you have any questions about this beautiful Rolex 6265. We are happy to share more pictures and info. Vintage Times ships worldwide and we also trade in vintage timepieces from various brands, contact us for more information.
Vintage Times
high-end vintage timepieces
Watch Details
Rolex Daytona
18k yellow gold
Ref 6265
Year 1979
Caliber 727
6.1xxxx serial
7205 bracelet
Clasp code C
Please don't hesitate to contact us for any further questions. We are located in Amsterdam (The Netherlands) and have many references of happy clients worldwide. On request we can supply more detailed pictures when needed. Vintage Times is passionated about all vintage timepieces from various brands. Quality and originality its what we are looking for, therefore all our watches have been carefully selected with a collectors heart. We are proud to offer this perfect Daytona 6265 on the market
Vintage Times Amsterdam
high-end Vintage Timepieces
email: [email protected]
whatsapp: +316 4111 10 44