Description
Rolex thunderbird ref 6609 Yellow Gold
Rolex Thunderbird ref 6609 from 1957 in yellow gold. The watch remains in great condition and dates back to the 1950's. The Rolex thunderbird is based on a 36mm Datejust and has a rotating bezel, the Rolex 6609 has been used by the USAF Thunderbirds, therefore this reference of the Rolex Datejust turn o graph is referred to as the Rolex Thunderbird.
This example is featured with a unique textured brick bracelet, these bracelets are highly attractive and rare. The condition of the bracelet is extremely good, its signed 1957 which matches with the watch. The bracelet itself could be considered as a rare find especially with the original watch in perfect condition too.
The watch remains in very good condition, the radium dots on the dial are present and the dial shows a nice and even patina which gives the watch a warm look. The case is strong as well as the bezel and caseback, it has not been over polished, it remains its original shape.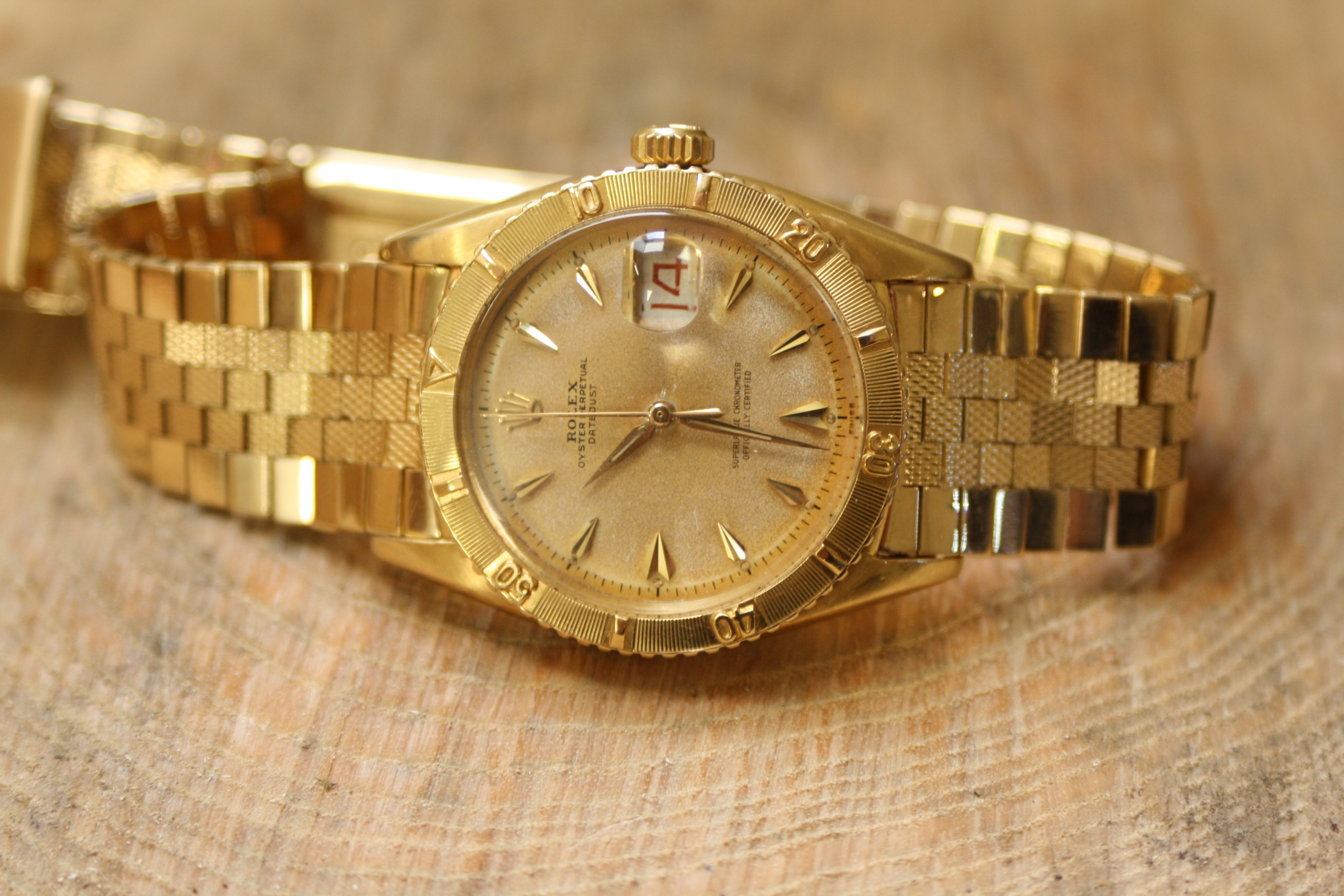 Rolex 6609 Turn O graph
The untouched dial of this Rolex Thunderbird has beautiful shaped arrow markers, the radium dots turned into a brown color. The patina of the dial is beautiful. It has a roulette date wheel with a red date for the even days and black for the odd's. The movement is looking clean and runs great, this Rolex 6609 is a true survivor in exceptional condition, the fact it has an even rarer bracelet makes this an interesting watch for collectors and a pleasant watch to wear. The size of the bracelet is pretty long, for the smaller wrist it should be altered at a jeweler but seeing the collectors value of the bracelet we wouldn't suggest to do.
Details about this Rolex Thunderbird
Reference 6609
36mm case size
1030 automatic movement
year circa 1957
18k yellow gold
rare textured bracelet
full original condition
1 year guarantee