Heuer 2446c Chronograph
Vintage heuer chronograph watch from 1969 in very good and original condition. The watch features the valjoux 72 movement and is designed as a tool watch. This model has always been very popular by race drivers and car fanatics. With it's black three register dial it has very much in common with the black 6263 Daytona dial from Rolex.
The watch condition could be considered as very good as it remains in original condition with a very strong 'unpolished' case and the original dial, hands, crystal and bezel. Also the movement is fully original and working perfectly. The serial and reference number are clearly visible and the gravure in the back is also present.
This Heuer Chronograph is sold, at this moment we have an even better example for sale with the original GF bracelet attached. Find it here in our vintage watch shop.
Vintage Times Amsterdam
High-end Vintage Timepieces
Vintage Autavia chronograph watch
Vintage Heuer Autavia for sale. This example remains in perfect condition and comes on it's original Gay Frères steel bracelet. We acquired the watch from the first owner who bought it new in 1969.
The watch has been fully serviced and is running perfectly. The chronograph function is also working as it should be. The watch has never been polished and no parts of the original watch have been changed during the years. The steel bracelet has no stretch and comes with extra links.
We deliver this watch with 1 year full guarantee. Also we supply 3 vintage leather straps with this vintage heuer autavia. This sporty chronograph is interesting for investment purpose but mostly a very robust toolwatch which could be worn as daily beater. Also it shares a lot of similarities with the well known Rolex Cosmograph Daytona. Besides the same movement used for both watches the dial of the vintage heuer autavia and rolex have been produces at the same firm and share a similar dial layout.
Heuer watches are well known and have been worn by famous people from all kind of industries. The chronograph watches from Heuer are also known from the auto sports. Besides watches there are many other timing instruments known from the brand used in the automotive and race industry for example.
Specifications
Heuer autavia ref 2446c
year 1968
full original condition
40mm steel case
Gf double rice bracelet
valjoux 72 caliber handwound
plexi crystal
1 year full guarantee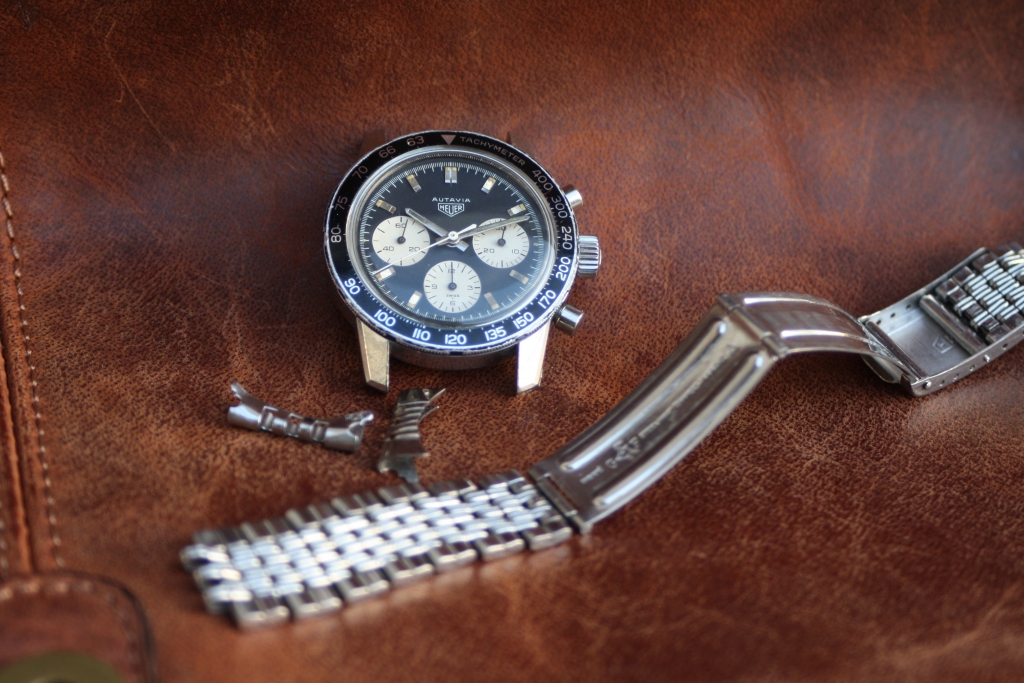 Please don't hesitate to contact us with any inquiries or questions about this vintage autavia. Read all about Heuer vintage watches at onthedash.com
whatsapp +31 641 111 044