ROLEX EXPLORER VINTAGE.
In this article we highlight a few Explorer watches which we came across lately. The Rolex Explorer is one of our favorite sports watches by Rolex.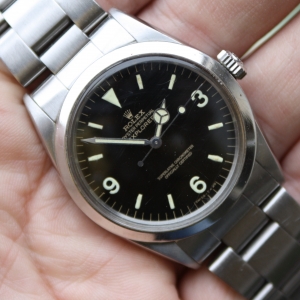 Rolex Explorer 1974 Matte dial
This Rolex 1016 explorer dates from the 1970's and has a very nice matte dial with tritium indices and hands. The condition of the dial could be considered as mint.

Rolex Explorer Tropical dial
Rolex 1016 Explorer, Beautiful and charming example from the 1960's. This early example has a Gilt dial with tritium indices and hands. The dial developed a beautiful chocolate brown color. We bought the watch from the son of the original owner, his father bought the watch back in 1965 after reading a story about the Rolex Expedition's where the Rolex Explorer fulfilled an important role.
Rolex 1016 Explorer 'Tropical' first owners watch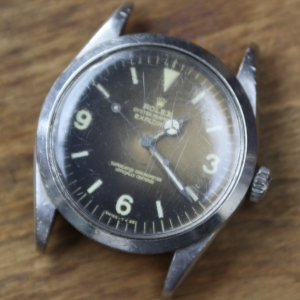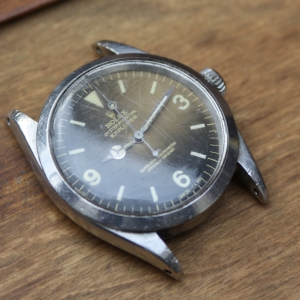 Above pictures shows the watch how we bought it from the previous owner. Unpolished condition with it's original tropic dome plexiglass crystal. Besides cleaning the movement and an original nos tropic crystal we decided not to touch the watch as the condition of this vintage Explorer is just stunning as it is.
The Rolex Explorer tropical after a cleaning on Jubilee bracelet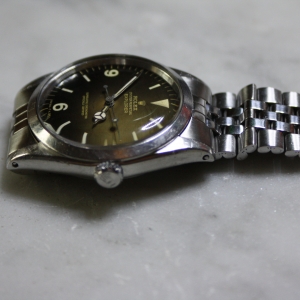 At vintage times we consider the condition the most important issue considering vintage rolex watches. Of course box, papers and history is important too but the real provenance of a good watch is the watch itself. However there will always be a premium for watches sold as a full set with the original box, papers and / or chronometer papers.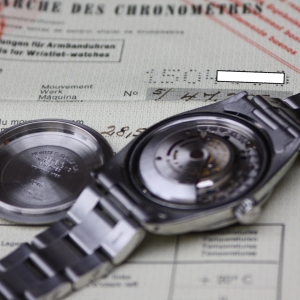 This watch is not for sale, at the moment we are looking for similar 1016 Rolex explorer watches. Please inform us if you sell a Rolex 1016 Explorer from the 1960's or 1970's
Vintage Times is specialized in vintage Rolex timepieces. Please contact us for any questions regarding you vintage timepiece