Vintage Rolex Daytona watches by Vintage Times
Read about vintage Rolex daytona watches currently for sale or recently sold at the Vintage Times watch collection. The Rolex Cosmograph daytona is one of the most popular Rolex watches today. From the pre-daytona chronograph watches till the current 116500LN daytona, they are all sought after by collectors and enthusiasts. The current Daytona model with ceramic bezel even sells for double the value of the original dealer list price.
This is an early execution of the Rolex 6239 daytona Big Eyes chronograph. The watch has a rare and early 'no daytona'  dial. The Rolex signature is written in white serif font while the Cosmograph writing is silver.  This early Daytona is powered by the Valjoux 72B Rolex caliber. The watch will be available soon in our store. Contact us for inquries.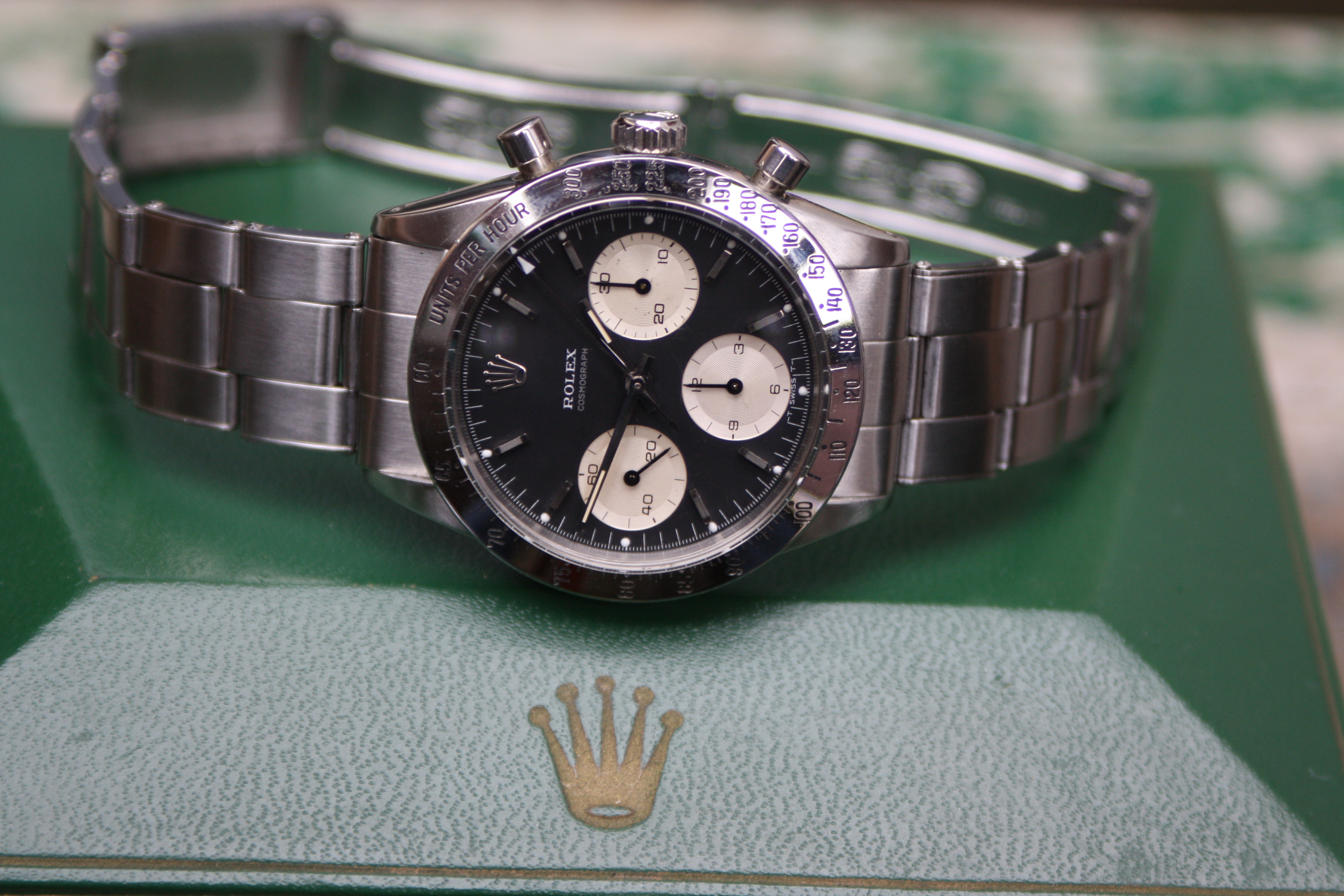 Rolex 6263 Big Red Daytona in astonishing condition. The Rolex Daytona might be the most popular sports model by Rolex, its actually their only chronograph model and it all started 60 years ago with the introduction of the original Rolex Daytona. One of the most popular versions of the early Daytona's is the Rolex 6263 Big Red. This model has screw down pushers, a bakelite black bezel and the writing of Daytona is in red, therefore it has the nickname Rolex 6263 Big red.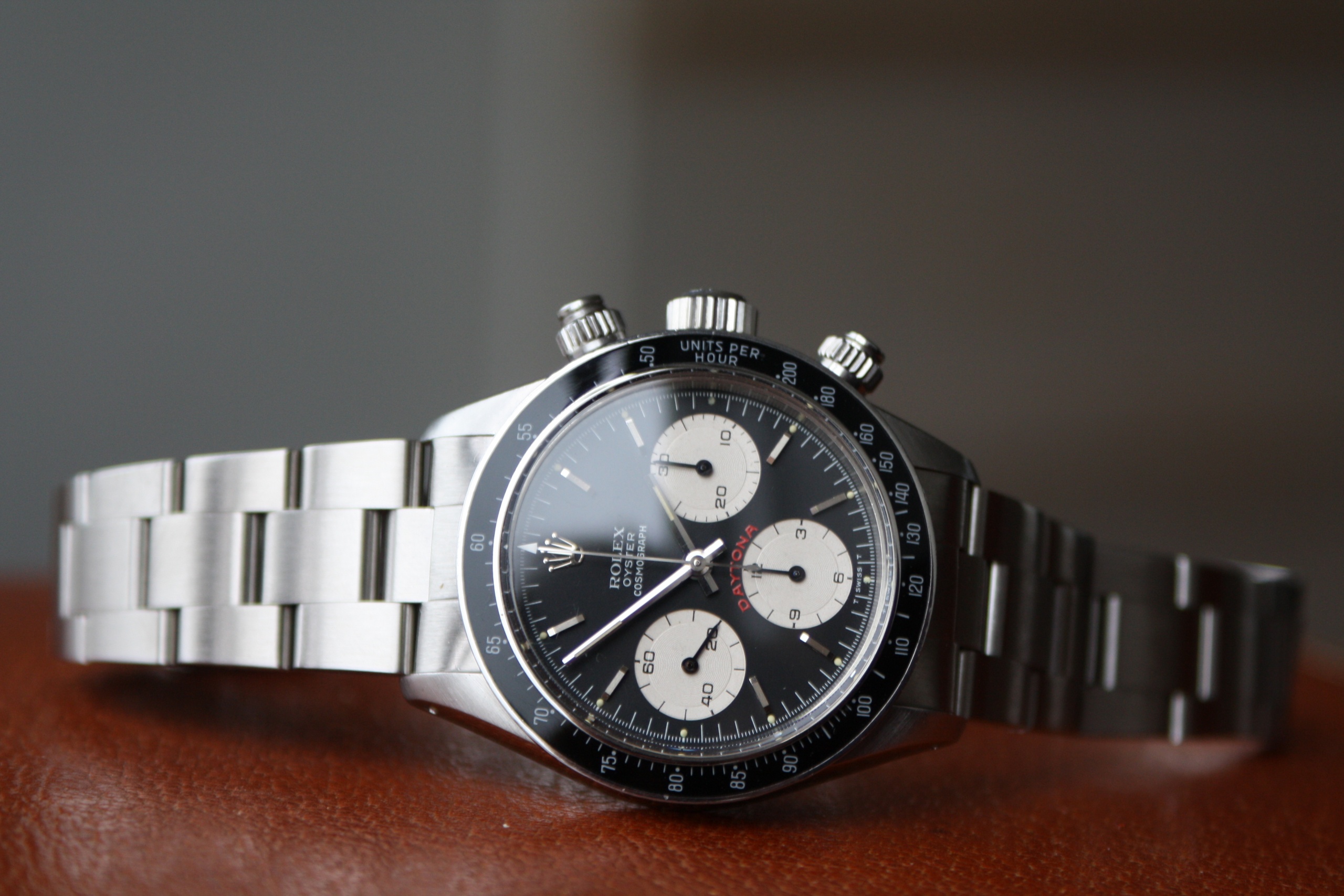 Rolex Daytona 'Silver Dial' ref 6239 from 1969
A beautiful and well preserved Rolex 6239 Daytona with a silver dial featuring black subdials. This Rolex daytona has the big arched daytona logo above the middle subdial. It has been produced at the end of the 1960's. The watch is powered by the valjoux 722-1 Rolex caliber. For more information about this watch check it out in our online shop.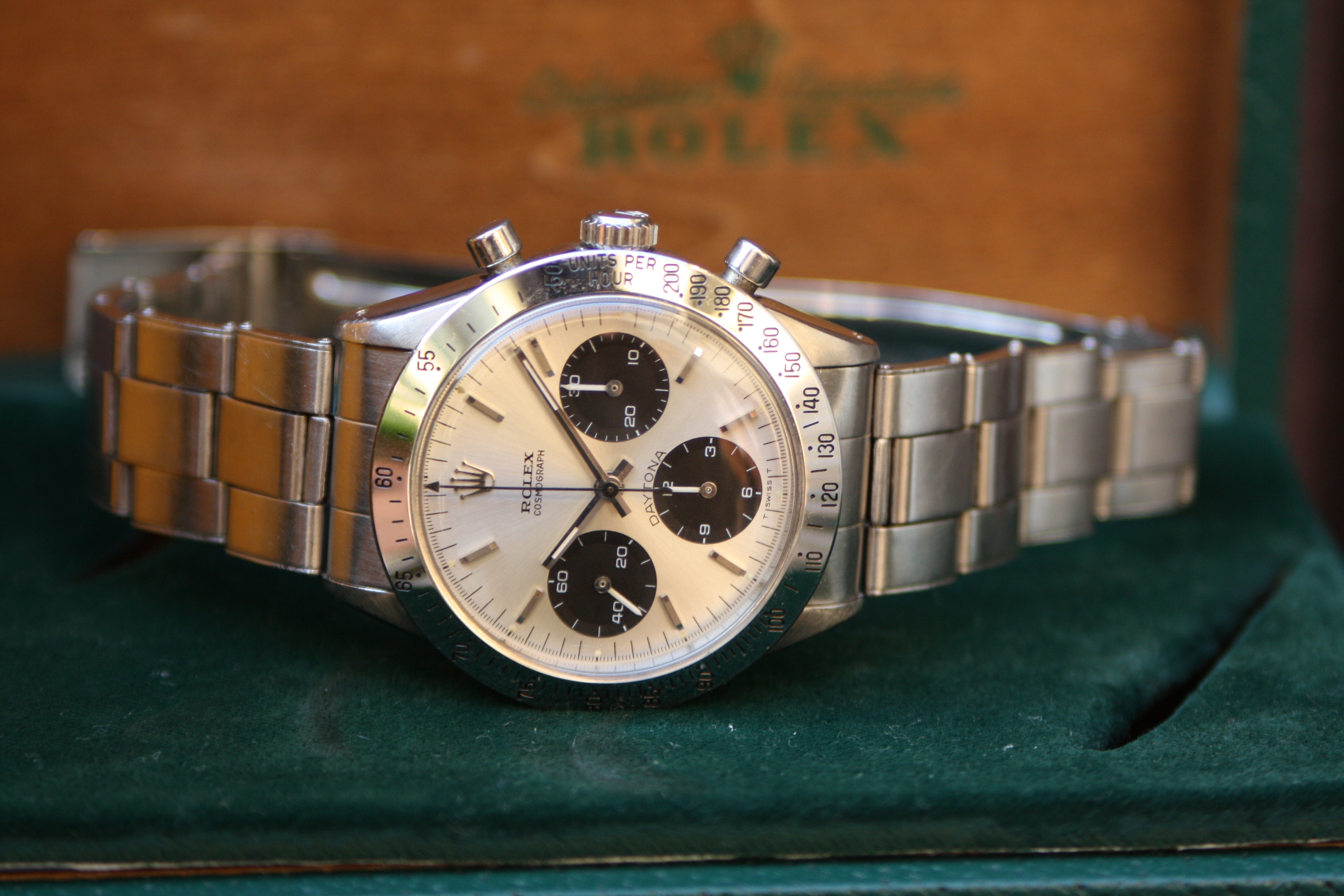 Rolex Daytona ref 6239 'Tropical' subdials
A true collectible and astonishing Rolex Daytona which has been produced around 1969. The watch condition is perfect and untouched, the three chronograph subdials changed color during the years and turned into a beautiful dark brown 'chocolate' color. In a dark ambiance the subdials look dark brown changing to bright chocolate brown in sunlight. This vintage daytona 6239 is one of the best preserved example on the market today. For more information about this handwound vintage daytona watch contact us now or have a look at the watch in our online shop.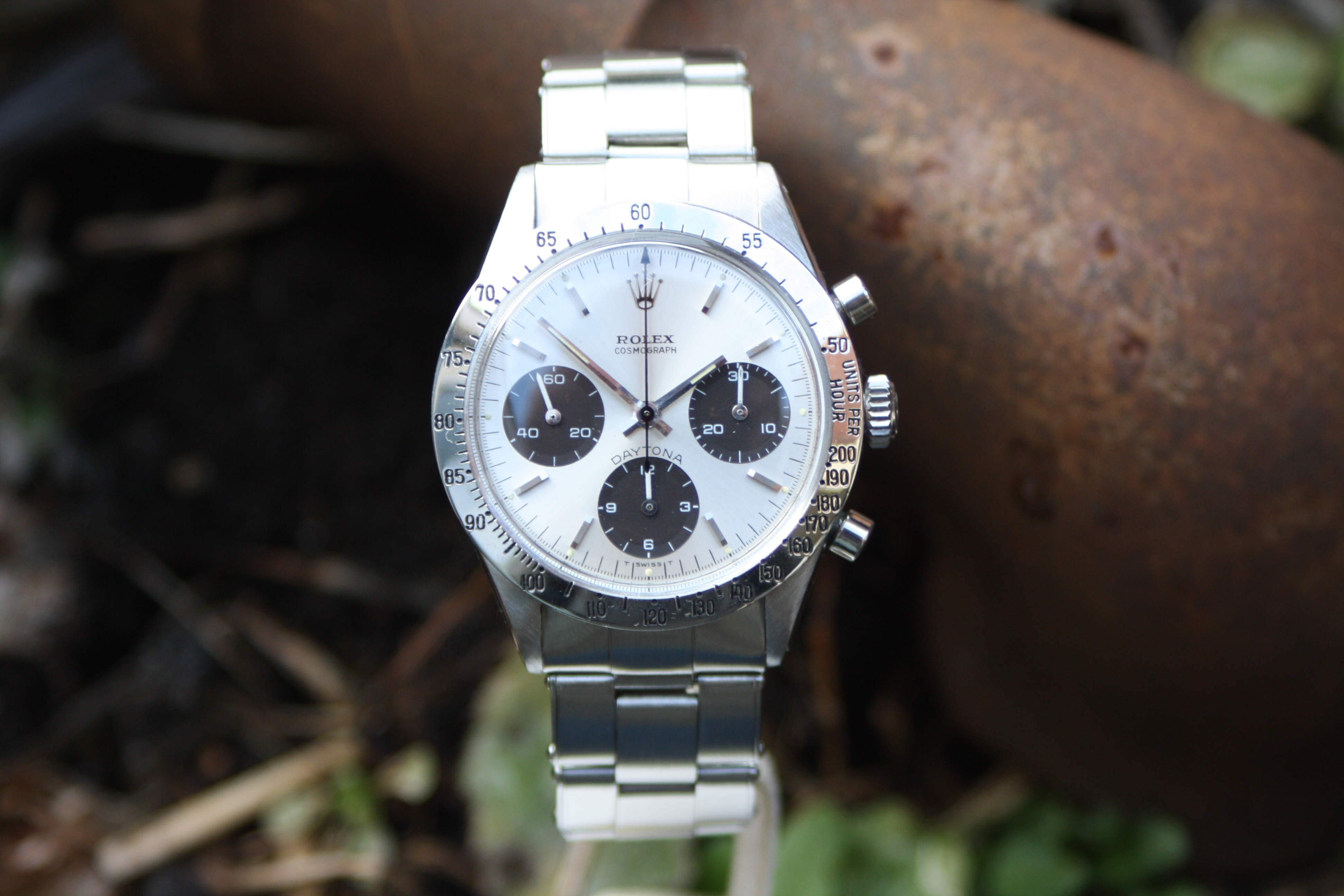 Rolex Daytona 'Silver Dial' ref 6265 Oyster Cosmograph
Perfect example of the Rolex 6265 'Oyster Cosmograph' daytona. The watch has screw down pushers and the newer style oyster bracelet. The 6265 is different from the 6239 daytona as it has screw down pushers and a bigger winding crown. Also the screw down pusher daytona watches bear the word 'Oyster' on the dial. This perfectly conserved example has been sold recently.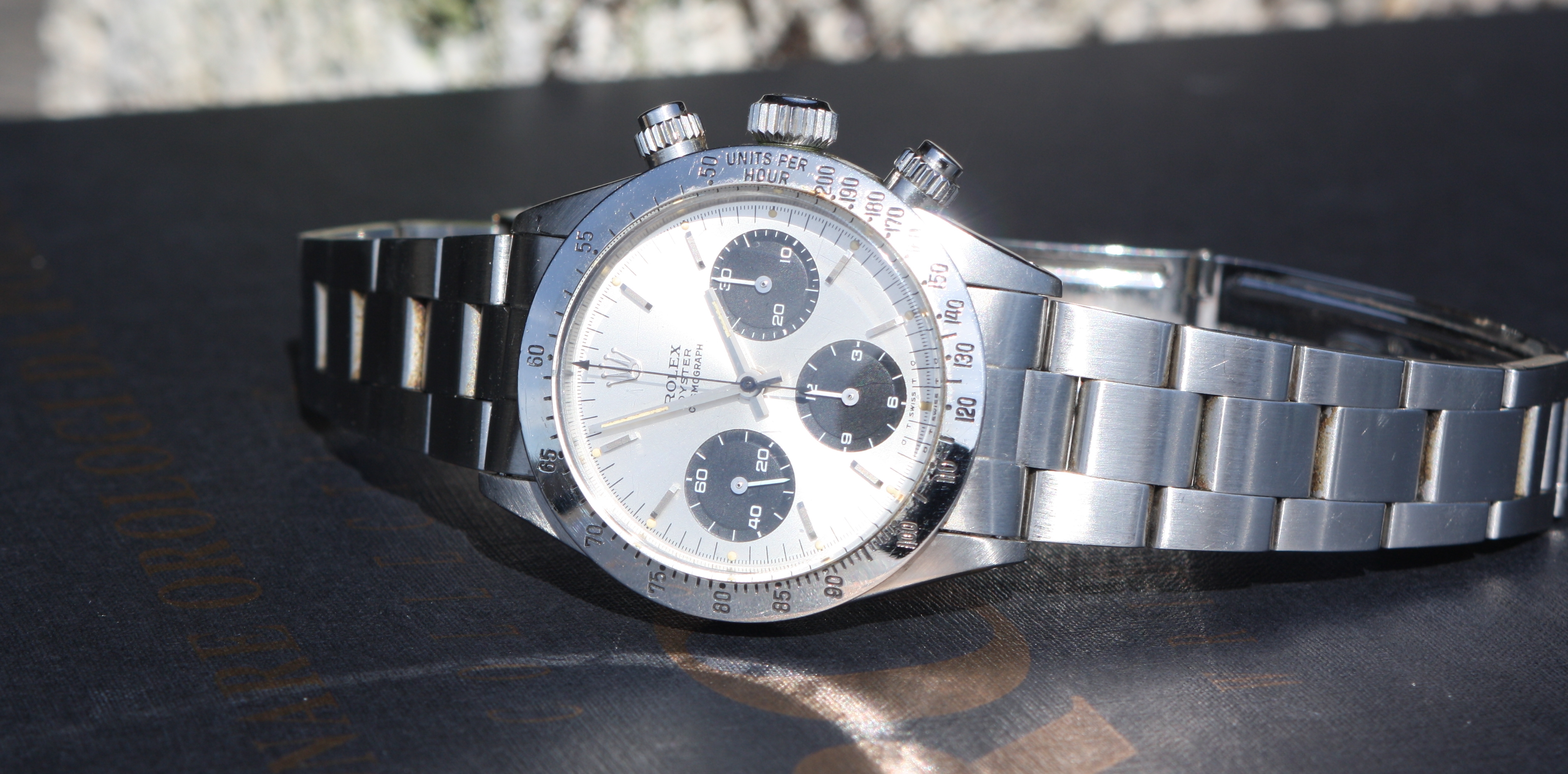 whatsapp: +31 641 111 044