Referring to our vintage rolex thunderbird for sale you will find some more information about the Maultsby Rolex 6609 thunderbird and the specific watch from USAF captain Charles W Maulstby on this page.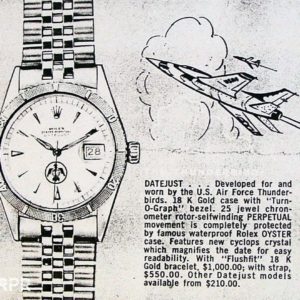 Captain Maultsby flew "Right Wing" for the Thunderbirds from 1957 till 1961. The Thunderbirds are the demonstration team for the United States Air Force. Captain Maultsby was part of one of the first teams that flew the F-100C Super Sabre, which was the 1st supersonic aircraft in the USAF arsenal.
The Thunderbird is actually a Date-Just developed for and worn by the Thunderbirds US air force. It has a rotating bezel and roulette date wheel. The piece we have for sale differs less then 50 digits from the piece Maultsby worn in his career. As a solid gold watch was very rare in the 50's you see the serial range of these watches is often very close. The difference of 48 digits in the serial makes clear the Maultsby rolex and the example on our website, must have been produced in the same week.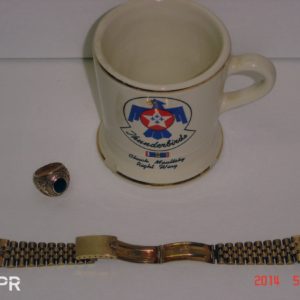 Read the full article from the USAF Captain Maultsby watch on the Rolex Passion Report website
Usaf Captain Maultsby Rolex – Rolex Passion Report
Rolex 6609 turn-o-graph for sale
we have a very rare turn-o-graph for sale right now. Find it here.