Description
Cartier Guillotine watch from the 1920's in Yellow Gold
Cartier 'Guillotine' shutter travel clock from the mid 1920's, an extremely rare piece of art made by Cartier Paris. This unique timepiece dates back to a time when traveling was not available for everyone. The person owning a gold Cartier Guillotine in the 1930's was most probably traveling with a class and style we can only dream about today. This travel companion might have been at very interesting luxurious places in the 20th century. This example of The Cartier Guillotine is accompanied by a golden frame which makes it possible to wear it with a chain. This is the largest size Cartier Guillotine on the market and it comes with the original Cartier box.
The Cartier Guillotine
The Cartier Guillotine is a luxury purse watch designed with a very ingenious case system where the dial is hidden under a claps which can be easily opened by clicking both buttons at the outside. The Cartier Guillotine works a bit like a cigar cutter in terms of operating. Not many examples of The Cartier Guillotine have been produced, especially not in the larger size in full gold without enamel decoration on the case. This makes it the ultimate mens luxury travel watch and the fact all remains in original condition it is also a very interesting investment as vintage Cartier jewellery and watches have rapidly increased in value over the last years. The Cartier Guillotine is a piece of art by Cartier from which many don't know its existence. A similar and rare example has been sold recently at Christies, it can be seen here.

About Vintage Times
at Vintage Times you will find luxurious timepieces from the past, besides the usual brands I focus on extremely rare and beautiful watches from forgotten or less known brands. Vintage Times is a one men shop, all watches are carefully procured and checked by myself and I only buy watches I like. Condition, rarity and elegance are the key of my collection and this Cartier Guillotine watch from the mid 1920's tickes all the boxes for me. The clock is accompanied with a generic (non gold) chain so it can be worn on the neck. This Cartier Shutter watch has been serviced and comes with 1 year full guarantee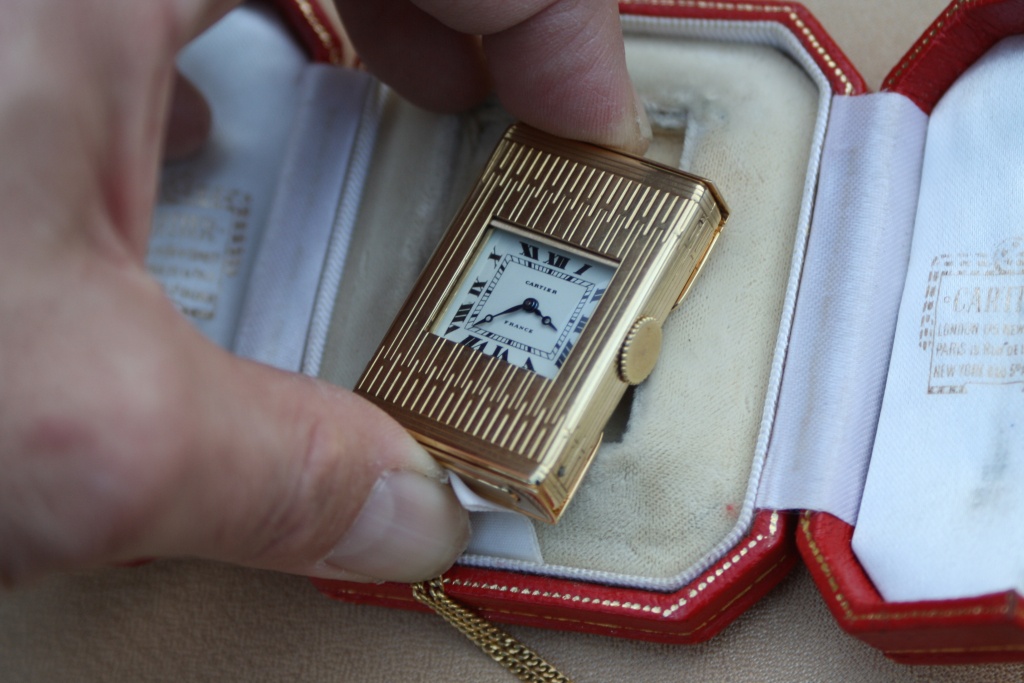 Please don't hesitate to get in contact with any questions about this rare vintage Cartier Guillotine. Worldwide shipping and trade in of your vintage timepieces is possible. You can get in touch through email, whatsapp and phone.
Price: Euro 22.500,- 
Vintage Times Amsterdam
+316 41 11 044
[email protected]
watch details
Cartier Guillotine purse watch
18k Yellow gold case
circa 1925
caliber 9 1/2 manual
45 x 29 cm diameter
signed Cartier France
with original box
1 year guarantee
Have a look at our vintage collection